---
Articles by Period
Journals & Publications
HA Podcast Series
Local History Month
The Great Debate
Links, Reviews & Visits
Support the HA
Make a donation
Publication date: 27th May 2010 by G.R. Batho, Iain Smith, Richard Brown
'Medieval' Book Reviews Spring 2010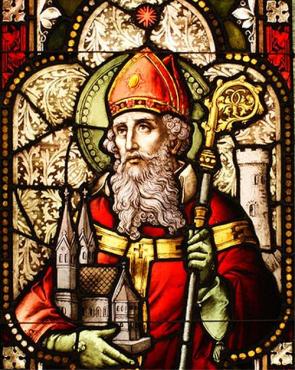 A series of book reviews on recent publications covering medieval history.
This spring the book reviews cover:
St. Patrick: The Life and World of Ireland's Saint, An Economic History of Europe: Knowledge, Institutions and Growth 600 to the Present, An Economic and Social History of Later Medieval Europe 1000-1500, Medieval Wall Paintings in English and Welsh Churches, Philip the Bold: The Formation of the Burgundian State, John the Fearless: the Growth of Burgundian Power, Deserted Villages Revisited, Land and Family: Trends and local variations in the peasant land market on the Winchester bishopric estates, 1263-1415, A Commonwealth of the People: Popular Politics and England's Long Social Revolution, 1066-1649
1. St. Patrick: The Life and World of Ireland's Saint J. B. Bury, Foreword by Thomas Charles-Edwards (Taurus Parke Paperbacks), 2010) xxiii, 197pp.,  £12.99, paper, ISBN 978 1 84885 187 0.
J. B. Bury (1861-1927), the son of a classicist who was a Church of England clergyman, distinguished himself at Trinity College, Dublin, as a classicist and published extensively, notably an edition of Gibbon's Decline and Fall and a History of Greece.  In 1902, he became Regius Professor of Modern History at Cambridge.  In his late thirties, he worked on his Life of St. Patrick that remains the definitive biography.  By then, Bury had declare himself a non-Christian and argued that history was a science, not an art.  He approached Patrick's career as an episode in the history of the world.  For all that he held history's role is to ascertain verifiable facts, facts are hard to discover about Patrick. 
For Patrick's deeds, Bury had to use later sources, about 200 years later than Patrick's life in the fifth century but he paid less attention than they deserved to the annals.  Over all, however, Bury's life remains a century and more after it was published valuable in revealing the influences that led to Patrick becoming the patron saint of Ireland, revered throughout the world.  It is also very readable.  This edition includes besides Bury's own notes and a short bibliography.  Thomas Charles-Edwards is a noted historian of Ireland's early history.
G.R. Batho
2. An Economic History of Europe: Knowledge, Institutions and Growth 600 to the Present Karl Ginnar Persson (Cambridge University Press) 2010  253 pp., £18.99 paper, ISBN 978-0-521-4940-0
European economic history is an area of considerable debate among historians and this concise and accessible introduction explains but also contributes to those controversies.  Persson focuses on the development of institutions and the relationship and interplay between institutions and the development and diffusion of knowledge-based technologies.  He uses a broad canvas to make his argument beginning in the post-Roman world and taking the story through to the present-day.  He challenges the view that economic development before the Industrial Revolution was constrained by the Malthusian paradigm of population chasing scarce resources arguing that what limited growth was the inadequate knowledge available for technological change. 
It was the development of a scientific culture and institutions that gave Europe the impetus for unprecedented technological progress and economic expansion in the nineteenth and twentieth centuries.  Designed as a textbook, though it is far more than that, the concepts used are carefully explained and text boxes, figures, an extensive glossary and online exercises help students gain a comprehensive understanding of the subject.  This is a valuable comparative study of economic history that students will find both useful and challenging.
Iain Smith
3. An Economic and Social History of Later Medieval Europe 1000-1500 Steven A. Epstein (Cambridge University Press), 2009 xii, 290 pp., £17.99, paper, ISBN 978 0 521 70653 7.
Steven Epstein is Distinguished Professor of Medieval History at Kansas.  In this book, which is a substantial synthesis, he sets social and economic developments within the context of the Christian cultures and values common throughout Europe that were the source of tension with Muslims, Jews and dissidents within and without the continent.  The history is complex but inevitably centres on the turbulent events of the fourteenth century, on the famine and plague. 
Epstein surveys the most important themes in European social and economic history from the growth that began around 1000 to the first global exchange around 1500.  He writes with exceptional clarity and students young and old will enjoy reading the book, which reviews the whole extent of Europe.  The nine chapters include discussions of agriculture, trades, rural and urban life.  There are nearly forty illustrations with maps and diagrams as well as photographs and select bibliographies are provided to each chapter as well as a very full index.  Throughout Epstein is conscious of ordinary people's experience and his down to earth approach is epitomised by his remarking that the privilege of praying in a great cathedral like Chartres has to be weighed against a grumbling stomach or cold feet!
G.R. Batho
4. Medieval Wall Paintings in English and Welsh Churches Roger Rosewell (Boydell Press), 2008 viii, 380pp., £39.95, $80.00, hard, ISBN 978 1 84383368 0.
This, the first major study of its subject in over forty years, is a quite exceptionally beautiful book with over 230 full-colour photographs of paintings, many of them never previously published.  Wall paintings were widespread, richly coloured and vibrantly patterned.  They were often larger than life memorials and inspired religious commitment.  The book contains a unique Gazetteer listing 500 churches and chapels where wall painting can still be seen.  When and where the paintings were made, how and why they were made and why they ceased to be made, all is explained in a lucid text that embodied a great deal of work, which is indeed authoritative and scholarly.  It is also a record of the greatest example of whitewashing in history.  Reference is made to where other examples of the particular subject can be seen.  A 'select' bibliography of books and articles occupies some eighteen pages and a full index is provided.
Roger Rosewell is an Oxford graduate and journalist who is editor of the on-line stained glass magazine, Vidimus, but is evidently addicted to wall paintings.  We are indebted to him for this invaluable guide to the important but often little known art of the medieval church.
G.R. Batho    
5. Philip the Bold: The Formation of the Burgundian State Richard Vaughan, Introduction by Malcolm Yale (Boydell Press), first published 1962, new edition 2002, reprinted 2009 xxxiv, 280pp., £19.99, $37, paper, ISBN 978 0 85115 915 7.
This is the first of Boydell's series, The Dukes of Burgundy.  The Duke of Burgundy died in 1363 without an heir and the duchy returned to the French crown, John II of France decided in 1384 to give Burgundy to his fourth son Philip, who created one of the most influential courts in Europe that within a century became so powerful it could challenge France.  By marrying the daughter of the Count of Flanders, Philip commanded resources equal to those of France.  From 1392, he was in dispute with his brother Louis who was regent in France; the resulting schism weakened the French administration. 
Richard Vaughan describes vividly the character of Philip, the splendours of the Burgundian court and Philip's only failure, the crusade of Nicopolis in 1396.  He characterises Philip as engaging, ambitious and shrewd. The formation of the Burgundian state has been credited to Philip's, grandson, Philip the Good; Vaughan's thesis was, and is, controversial but is very well argued.  There are bibliographies occupying 22 pages and a full index of 18 pages.  There are four maps and a genealogical table, but curiously, the list is missing from the copy sent for review.  It is a scholarly study based on unusually wide sources and constitutes a good and refreshing story.
G.R. Batho    
6. John the Fearless: the Growth of Burgundian Power Richard Vaughan, with foreword by Bertrand Schnerb (Boydell Press), 2002, re-printed 2009, first published 1966 xxii, 324pp., £19.99, $37, paper, ISBN  978 0 851159 164.
Richard Vaughan's biography of 1966 proved a seminal work in examining the construction of the Burgundian state which John inherited from his father and developed its power.  John is an enigmatic character.  Certainly, he allied himself with the English party in France and the book is largely concerned wit the exploitation of French resources for the advantage of Burgundy.  He maintained his father's administrative and financial structures. John was not a popular figure, violent and unscrupulous, impulsive and an opportunist.  Ultimately, one of his favourite weapons, political assassination, was his undoing.  The dauphin Charles was present and may have been implicated in his death on the bridge of Montereau and John himself has often been treated as a French prince.
The book has some nine clear, black and white illustrations drawn from a variety of sources including archives and seven useful maps.  Additionally there is a bibliography occupying twenty pages.  It is part of Boydell's series on the Dukes of Burgundy.
G.R. Batho
7. Deserted Villages Revisited Christopher Dyer and Richard Jones, (eds.) (Explorations in Local and Regional History, Volume 3, University of Hertfordshire Press), 2010 xxii, 207pp., £14.99, paper, ISBN 978 1 905313 79 2.
The godfather of the study of deserted villages was Maurice W. Beresford whose pioneering work occurred from 1948.  Professor Dyer and Dr. Jones have edited studies by ten leading archaeologists, geographers and historians who have revisited the deserted villages, revealing much new evidence and new thinking sixty years on.  Just how much work has been done is graphically demonstrated by a bibliography extending over 17 pages.  Where the early studies tried to explain when, how and why villages were deserted, since the 1970s the emphasis has shifted to an interest in village origins, village planning and the smaller settlements that were especially common in the west and southeast of England. 
The studies in this volume demonstrate how inclusive deserted village research has become, taking into consideration property holding, place names, excavations, field surveys, and attention is drawn to the long period during which desertion took place and the blurring of distinction between deserted and shrunken villages.  Desertion occurred in every century from the twelfth to the eighteenth; the causes were clearly varied and complex. There are some forty figures and six tables as well as a very adequate index.  The book is good value and makes for intriguing reading.
G.R. Batho
8. Land and Family: Trends and local variations in the peasant land market on the Winchester bishopric estates, 1263-1415 John Mullen and Richard Britnall (Studies in Regional and Local History, Volume 8, University of Hertfordshire Press), 2010 xvi, 175pp., £18.99, paper, ISBN 978 1 902806 95 2.
This book arises out of the Winchester Pipe Roll Project, centred in the University of Durham 2000-2004 and is authored by Dr. John Mullen and Richard Britnall, FBA, who taught at Durham 1966-2003 and is an eminent medievalist.  Medieval peasant families are closely identified with the land to which they had a hereditary right but of late historians have become interested in the facility with which tenants could exchange land. 
This important study of village life has deployed evidence from the analysis with the help of computerised technology of no fewer than 66,000 transactions in over 50 manors from Somerset to Surrey, from Oxfordshire to Hampshire.  Consequently it offers unparalleled opportunities for the comparison of local and regional differences of experience between the thirteenth and fifteenth centuries  Before 1348, the force of custom separated the two categories  of land-virgated tenures and assarts - and inhibited accumulation by customary tenants but the accumulation of holdings became more common between 1348 and 1415, especially among larger tenants.  There is a useful bibliography and an index.  It is an interesting and valuable study.
G.R. Batho
9. A Commonwealth of the People: Popular Politics and England's Long Social Revolution, 1066-1649 David Rollison (Cambridge University Press), 2010 474 pp., £24.99 paper, ISBN 978-0-521-85373-6
How England, a country in which less than three million people spoke English at the beginning of the sixteenth  century, became the nucleus for an empire on which 'the sun never set' is a complex question and forms the core of this challenging book.  David Rollison argues that this 'English explosion' was the result of a long social revolution that has its origins in the century after the Norman Conquest. 
A series of crises from 1066 through to the English Revolution were links in a chain of collective memory that led to a unique, vernacular populist movement in which the key idea was one of 'commonweal' or 'commonwealth'.  Although this concept was widely recognised by the mid-sixteenth century, Rollison argues that the constitutional developments of the preceding five centuries saw the development of the notion that state institutions and power were subordinate and answerable to the great community and that those who governed did so by 'consent'. 
The book synthesises political, social, intellectual, cultural, religious, economic, literary and linguistic developments and offers a 'new constitutional history'.  This is achieved through the three parts of the book.  Part I considers the emergent commonalty and examines the ways in which different themes came together by the early fifteenth century.  Of particular importance were the power of a common language and the emergence of vernacular populism.  The second part discusses popular resistance and rebellion between the accession of Edward III and the rebellions of 1549.  The third section explores the 'English explosion' focussing on the politics of industry and its impact of the constitutional landscape and on the global expansion of England. 
The book ends with a section on the empowered community and how by the mid-seventeenth century the voices of the common people became both 'English' and 'communal'.  This is an innovative study that ranges widely across different disciplines and, as one of those who provided pre-publication comments suggested, 'represents a defining moment in the new social history of politics'. 
Richard Brown
---