---
Publication date: Wednesday 3rd February 2010
Fundraising campaign launched for Broadlands Archives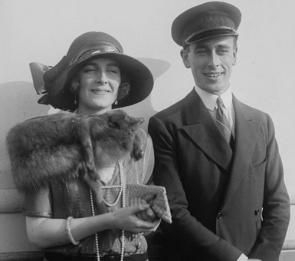 Louis (1900-1979) and Edwina (1901-1960) Mounbatten. Early 1920s. Library of Congress.
The Broadlands Archives are an outstanding collection of historical documents covering major political, diplomatic, social and economic events of the 19th and 20th centuries.
Filling more than 4,500 boxes of documents, the Archives include hundreds of thousands of papers relating to Lord Palmerston and Lord Mountbatten. They are one of the UK's most significant family and estate collections.
We have launched a campaign to raise £2.85 million by March 2010 to secure the Broadlands Archives for the nation. A successful fundraising campaign will ensure public access to the collection in the UK, otherwise there is a risk that the Archives will be broken up and sold overseas.
About the Broadlands Archives
The Broadlands Archives have been on loan to the Hartley Library at the Highfield campus since 1989 and are one of the most important manuscript collections in our care. Stored in purpose-built facilities in the Hartley Library's Special Collections Division, the documents are publicly available and have been used by researchers from around the world
Among the treasures of the collection are papers of the third Viscount Palmerston, who was Foreign Secretary, Home Secretary and Prime Minister during Queen Victoria's reign. They include letters from the Queen:
"The Queen not having heard anything from Lord Palmerston respecting foreign affairs for so long a time and as he must be in constant communication with the foreign ministers in these most eventful and anxious times, wishes to urge Lord Palmerston to keep her informed of what he hears" (17 April 1848)
The extensive archive of papers relating to Lord Mountbatten covers the whole of his career but most significantly his time as Supreme Allied Commander, South East Asia Command (SACSEA) 1943-6, and in 1947 and 1948 as the last Viceroy of India and the first Governor-General of the newly independent India.
Another section of the archive contains the diaries of Anthony Ashley Cooper, seventh Earl of Shaftesbury, which provide a remarkable insight into social progress in Victorian England. Nicknamed the 'poor man's earl', Lord Shaftesbury championed reform and religious movements, including the protection of child chimney sweeps and shorter working hours for children in factories.
How you can help
For more information about how you can support the fundraising campaign, please contact:
Katherine O'Brien
Associate Director of Development and Alumni Relations, School of Humanities
Tel: +44 (0)23 8059 6895
Email: kaob@soton.ac.uk
---