---
Publication date: 16th September 2011 by Warren Dockter
The Tale of Two Winstons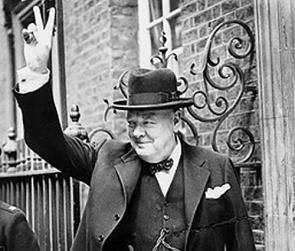 Winston Churchill giving his famous 'V' sign standing for Victory.
Winston Churchill is generally regarded as one of the most prominent figures of the twentieth century. As Prime Minister he led Britain to victory against the Nazi war machine, leading Time to name him 'Man of the Year' in 1940 and 'Man of the Half Century' in 1949. As recently as 2002 he was voted 'the greatest Briton' by a BBC poll. His tenacious personality has become iconic as displayed in his images with his cigar, fingers stretched in a 'V', and pugnacious face, leading one to believe Winston Churchill was probably a man very seldom mistaken for someone else. However, at the turn of the century he was often mistaken for the best-selling American novelist by the same name. In the early 1900s the American Winston was far more famous in the United States than his British name sake. This article will examine the historical peculiarity of the two Winston Churchills, their brief correspondence, their chance meeting in Boston in 1900, and the striking similarity of their lives.
Winston S Churchill first became aware of his American name sake in the Spring of 1899 when he began receiving letters with 'congratulations on [his] skill as a writer of fiction.' Ever hopeful, the British Churchill supposed that these letters were 'belated appreciation for the...
---