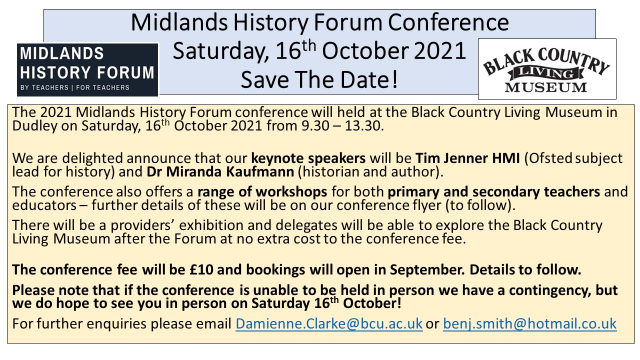 Event Type: HA
Takes Place: 16th October 2021
Time: 9.30am - 1.30pm
Venue: Black Country Living Museum
Description: We are delighted to announce that our keynote speakers will be Tim Jenner HMI (Ofsted subject lead for history) and Dr Miranda Kaufmann (historian and author). The conference also offers a range of workshops for both primary and secondary teachers and educators - further details of these are on our conference flyer (attached below). There will be providers, exhibition and delegates will be able to explore the Black Country Living Museum after the forum at no extra cost to the conference fee.
How to book: Booking will open in September.
Price: £10
Email: damienne.clarke@bcu.ac.uk
Comments: Please note that if the conference is not able to be held in person we have a contingency, but we do hope to see you in person.
Categories:
Conference