Primary subject knowledge webinars
HA webinar series
Published: 3rd June 2020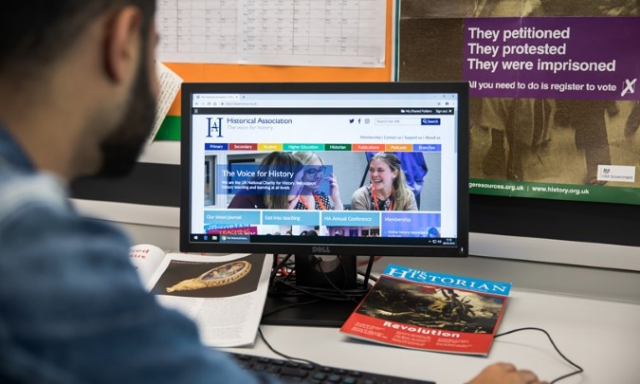 Boosting subject knowledge at Key Stage 2
We are pleased to announce a new series of subject knowledge webinars aimed specifically at teachers of primary history. This series, presented by Alf Wilkinson and Andrew Wrenn, aims to develop primary teachers' subject knowledge covering all topics on the National Curriculum.
Each practical, enquiry-led webinar will survey the academic subject knowledge of a particular curriculum topic, giving teachers of primary history more confidence in teaching relevant content to greater depth, in line with the expectations of the Ofsted framework. It will also suggest how the content could be organised into a coherent medium-term plan featuring rigorous enquiry questions focused on a variety of subject-specific concepts such as cause and consequence and change and continuity. Links to useful resources will be provided with suggestions for possible learning activities.
Timetable
What did the Stone Age ever do for us? (Wednesday 24 June 2020)
What is the legacy of Ancient Benin? (

Tuesday 14 July 2020)*

How did the Bronze and Iron Ages change Britain? (Thursday 17 September 2020)
What have the Romans ever done for us? (Thursday 24 September 2020)
How did Roman Britain become Anglo-Saxon England? (Thursday 1 October 2020)
What is the legacy of the Vikings? (Monday 12 October 2020)
What do we owe to the ancient Egyptians? (Thursday 15 October 2020)
How do we know about Shang Dynasty China? (Thursday 22 October 2020)*
What is the legacy of the ancient Greeks? (Thursday 5 November 2020)
How do we know about ancient Sumer? (Wednesday 11 November 2020)*
What can we tell about the Maya from those alive today? (Thursday 19 November 2020)
What is the legacy of the Second World War? (Thursday 26 November 2020)
How do we know about the Victorians? (Thursday 3 December 2020)*
What was special about Baghdad and the Islamic world in 900 CE? (Thursday 14 January 2021)
What is the legacy of the Tudors? (Thursday 21 January 2021)
Creating 'Big Picture history' for Years 3 to 6 (Thursday 28 January 2021)
Booking options and costs
Each individual webinar will be available to book online via Eventbrite. For block bookings please complete the booking form below to request an invoice. All paid webinars are subject to VAT and Eventbrite fees if booked online. Please note that the four webinars marked with an asterisk (*) above will only be available free to HA members.
A discount is available for those who wish to book for multiple webinars in the series. For enquiries or to register your interest in any of these webinars please email Olivia Dent at events@history.org.uk
| | | |
| --- | --- | --- |
| Number | HA Member | Non-member |
| 1 webinar | £50 | £65 |
| 4 webinars | £140 | £185 |
| 8 webinars | £270 | £340 |
| 12 webinars | £360 | £470 |
Please note that these prices are listed per device listening live.