Wolfson History Prize 2018 shortlist announced
Published: 2nd May 2018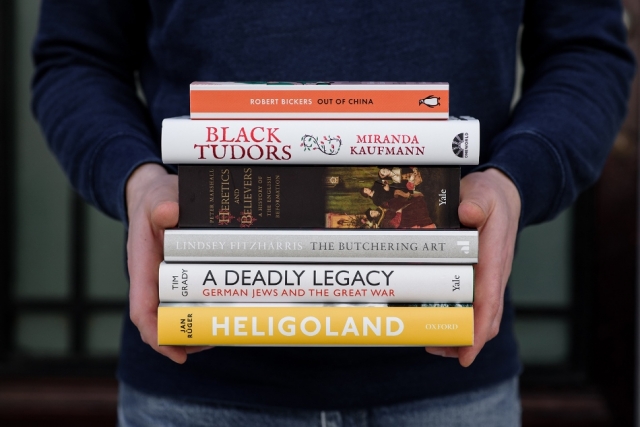 Six books are in the running for the Wolfson History Prize 2018, each selected for their outstanding historical writing that is also accessible to a general audience.
The shortlisted books are:
Out of China: How the Chinese Ended the Era of Western Domination by Robert Bickers (Allen Lane, Penguin Press)
The Butchering Art: Joseph Lister's Quest to Transform the Grisly World of Victorian Medicine by Lindsey Fitzharris (Allen Lane, Penguin Press)
A Deadly Legacy: German Jews and the Great War by Tim Grady (Yale University Press)
Black Tudors: The Untold Story by Miranda Kaufmann (Oneworld)
Heretics and Believers: A History of the English Reformation by Peter Marshall (Yale University Press)
Heligoland: Britain, Germany and the Struggle for the North Sea by Jan Rüger (Oxford University Press)
The overall winner will be announced on Monday 4 June at a reception at Claridge's in London. The winner will receive £40,000 and each of the shortlisted authors will receive £4,000.
The shortlist was selected by a panel of four eminent historians. Professor Carole Hillenbrand, an expert on Islamic history and Professor at the Universities of Edinburgh and St Andrews, joined the judging panel this year alongside Sir David Cannadine (Chair), Sir Richard Evans and Professor Sir Diarmaid MacCulloch.
Professor Sir David Cannadine, speaking on behalf of the judges, said:
"This year's shortlist is a testament to the strength of writing on history in the UK today. It brings together established academics with first time writers, spanning a huge variety of times and places. What unites the authors is a commitment to share careful research and a deep love of their subject with as wide an audience as possible. As judges we found ourselves engrossed, challenged, and delighted by our reading. It is with great enthusiasm that we announce the shortlist for 2018."
The Prize was established in 1972 and celebrates books which combine excellence in historical research with readability for a general audience.