History Educators International Research Network Conference: HEIRNET 2022 Amsterdam Conference
Amsterdam University of Applied Sciences, Wednesday 31 August to Friday 2 September 2022
By Jon Nichol, published 23rd March 2022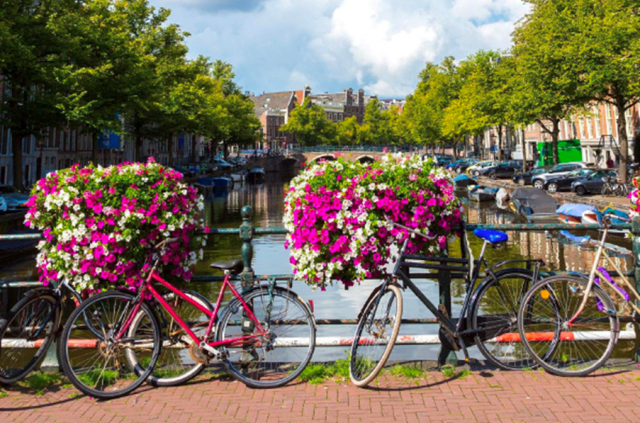 Connecting the Past To Present and To Future
HEIRNET is a friendly, diverse, inclusive and supportive association that brings together colleagues from around the world interested in History Education's cultural, educational, ideological, moral, social, political, religious and citizenship roles.
Amsterdam is the perfect venue for the live and online HEIRNET 2022 conference. Since the 16th century cosmopolitan Amsterdam has been at the heart of Europe's cultural and economic transformation that still permeates our sense of identity and helps shape our future as reflected in the conference theme: Connecting the Past To Present To Future.
HEIRNET 2022 will address History Education scholarship, research, policy and practice in relation to:
Covid-19, Climate Change / Global Warming and International Warfare in Europe and the Middle East
Other aspects of History Education included in the conference's comprehensive 6 Areas, 23 Themes and over 300 Topics. The areas are:
Public History & Citizenship
Historical Culture and Identity
Thinking Historically, Historical Knowledge & Learning
Pedagogy / Didactics – Teaching, Learning and Assessment
Teacher Training and Professional Development
Researching History Education
Conference Sessions and Strands
The conference's sessions are 90 minutes long with four parallel strands. A session's strands can take many forms, including:
Book Launches
Curriculum Development
Debates
Demonstrations
Discussions
Drama
HERJ Publishing Seminar

Investigations
Lectures
Panels
Papers
Performances
Project Reports
Researching History Education
Role Plays

Round Tables
Seminars
Simulations
Student Research Support
Symposia
Talks
Workshops
Delegate Created Strands*
* Delegates can create, organise and manage their own 45 minute half or 90 minute full strand on a topic of their own choice, including workshops.
Online Option
The live HEIRNET 2022 conference also has online strands in sessions that enable you to participate if you cannot be present in Amsterdam. Please also note that should Covid or War prevent you from making a live presentation in Amsterdam, we can include it in one of the conference's online strands.
Conference Fees: Live and Online
The live conference full delegate fee is £300, for students and retired delegates £150.
The live fee includes refreshments, a reception, lunch on day two and the conference dinner.
The online conference fee is £150 for all delegates.
The History Education Research Journal (HERJ)
The History Education Research Journal (HERJ) is happy to consider HEIRNET 2022 delegates' papers for possible publication. HERJ is a University College London IOE Press internationally refereed academic journal.
HEIRNET 2022 conference – full details
Consult the conference section of the HEIRNET website: www.heirnetonline.com.
Details are also included in the attached conference flyer and circular.
If you have any queries or concerns about HEIRNET 2022, do not hesitate to contact us at: heirnet@gmail.com