Three Cheers for Women!
Women's History Month 2019
Published: 1st March 2019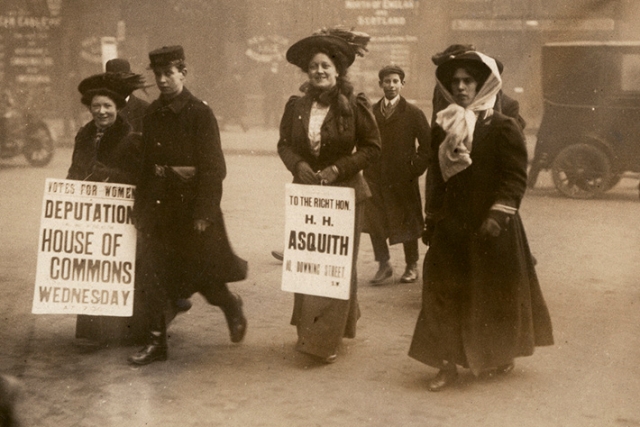 Celebrating women's history
It's Women's History Month – a whole month dedicated to 52% of the global population. Yes, despite being the majority there is still a need to have a month dedicated to highlighting and celebrating women's history – and that alone tells you how important it is to explore and emphasise women's stories. Regardless of which nation, ethnicity or culture you examine, women are routinely underrepresented in the stories and achievements celebrated – and yet they have been leaders, writers, scientists and parents throughout human history.
So this month we will be celebrating women's history through the women who shouted about it. In 2018 we developed a suffrage resources website which despite being created for schools and colleges has at its heart a database about individual suffragists from across the UK and collections of their stories. Whether you are a teacher or not, it can be fascinating to discover more about the ordinary women from your area who campaigned, marched and were sometimes imprisoned to help all of us – including the working man – to secure the vote.
Among these are individuals such as Mary Ann Rawle, a mill worker from Lancashire; Lilian Lenton, a dancer from Leicester; the elderly Priestman sisters who changed the Liberal Party selection process through their insistence of suffrage as a qualifier; and Rosa May Billinghurst who campaigned in her wheelchair.
On International Women's Day on Friday 8 March we will be releasing more women's case studies on the Suffrage Resources website, available freely to all. These stories are all our stories and ones we should be proud of. The UK was one of the first democratic nations to grant women the vote. Let us be one of the first democracies to see that right celebrated alongside all women's contributions on an equal footing to any man's.
Of course our dream is that in 20 years' time young women will find the need to have a month dedicated to their history a preposterous idea because they will be equally and fairly represented in all avenues of history – although that is probably what the women's democracy campaigners thought in 1928 with the extension of the franchise. After over a century of campaigning for women's rights let's make sure that we know better those women who started the journey that we would like our daughters and granddaughters to complete: equality and representation for all.
Three Cheers for Women!