Professor Sir David Cannadine receives the 2013 Medlicott Medal
Published: 19th June 2013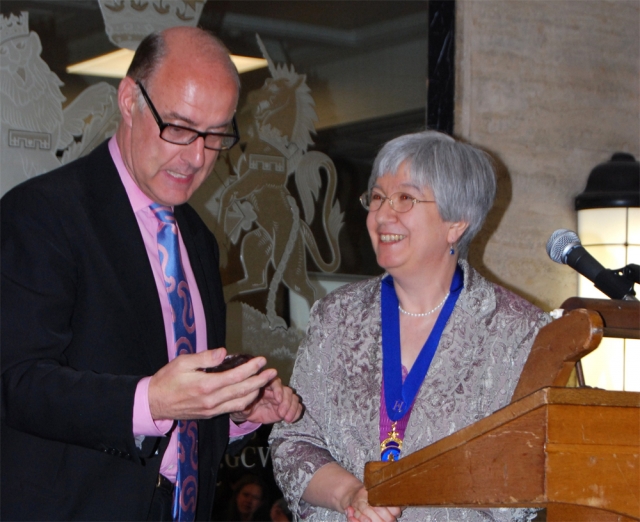 On the evening of 18 June 2013 Professor Cannadine received the Medlicott medal an annual award given by the Historical Association to individuals for outstanding services and current contributions to history. Professor Cannadine is a well-known and influential historian, currently based in the UK and The USA.
The Medlicott medal is given at the end of an awards night when writers, historians and researchers are all recognised with a variety of awards for services to history. Also being recognised that evening was the popular author of historical fiction Lindsey Davis.
The custom after receiving the medal is for the recipient to address the audience with a lecture. Professor Cannadine discussed some of his views on the National Curriculum before outlining some of the books he is currently proposing to write and why. The main body of his talk was about the 'Politics of Age' or rather the politics of older politicians and how age affects their decisions and their determination.
Cannadine has noted that as society in the Western World is living longer it is electing young(ish) Prime Ministers - e.g. Blair, Cameron and Thatcher. Whilst in the past when the population had a shorter life expectancy the electorate chose older politician as Prime Ministers e.g. Disraeli, Campbell- Bannerman and Palmerston. His talk then focused on the actions and exploits of Gladstone and Churchill and how old age affected their judgement and the political passions that they pursued.
Click here to open the podcast...
The Medlicott Medal
The medal is for Service to History. It was conceived by Professor Donald Read in 1984 and was named after a senior past-President of the Association: Professor William Norton Medlicott, a few years before his death, on the suggestion of Harold Freakes, who was then Honorary Secretary of the Historical Association.
Previous winners have included Michael Wood, Peter Hennessy and Bethany Hughes.