The Historical Association Annual Conference
18-19 May 2018, Stratford-upon-Avon
Published 24th January 2018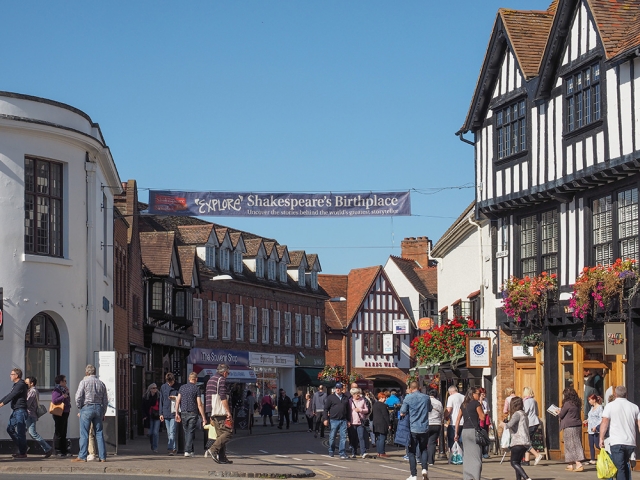 Booking open now at www.haconference.com
On 18 and 19 May 2018 we'll be in Stratford-upon-Avon. Annual conference is one of the highlights of the year for history teachers, historians and history junkies alike.
Forsooth, Stratford you say? Will I need hose?
Although we are in the famous Bard's* home town, the conference will be its usual mix of varied expert speakers and presenters.
This year we are very pleased to announce that one of the keynote speakers is Edith Hall, a Professor in the Classics Department and Centre for Hellenic Studies at King's College London. Her specialism is ancient Greek literature, but she enjoys "putting the pleasure as well as the rigour into all aspects of ancient Greek and Roman history, society, and thought". The author of numerous books and a regular writer and commentator for the media, she is sure to enlighten any minds attending conference this year.
There will also be sessions on women and religion in the English Revolution with Ann Hughes, Vikings (very popular right now) by Chris Callow, and Korea (very relevant right now) with Jongwoo Han.
In the specialist education strand there will be sessions for secondary and primary addressing pedagogical developments as well as specialist topic and content understanding. Presenters will be a mixture of old favourites and new trailblazers.
With the leadership of the United States a regular subject in the news, the talk on Eleanor and Franklin: Women and the New Deal by HA President Professor Tony Badger will be a timely and thought-provoking start to the two-day conference.
However, we at the HA are not immune to a bit of cultural relevancy of where we are, so there will also be an opportunity to attend a play at the Royal Shakespeare Theatre.
More speakers will be announced soon with another history big hitter just about to be confirmed for the day two keynote. We hope that you choose to join us – do remember that HA members get a discount and there is an early bird offer. Remember "Time waits for no man" (damn it, wrong author, so instead) – book your place now as "Nothing will come of nothing" (King Lear).
*This historian is not prepared to enter the debate about whether Shakespeare wrote all his plays or someone much posher did – I'll leave that to the English academics to thrash it out with spiked gauntlets!