Richard III and the Bosworth Campaign
Review
By Rachel Murray, published 11th February 2011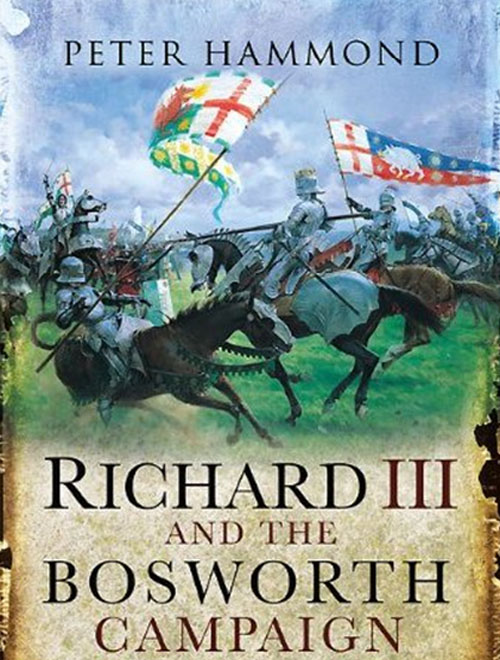 Richard III and the Bosworth Campaign - Peter Hammond
(Pen & Sword Books Ltd.), 2010
192pp., £19.99, hard, ISBN 978-1-8441-5259-6
There remains intense popular interest in Richard III. In one sense, this is surprising since he was king for only two years and was the last English king to die in battle. Yet, it is perhaps precisely because of this and the work of Tudor propagandists who did everything they could to blacken his name, personality and physical appearance that he remains a figure of considerable controversy and interest.
A ruthless politician who, according to Shakespeare and others, murdered his brother and his nephews, usurped the throne and died calling for a horse at Bosworth yet he was also an individual who effectively ruled the North for over a decade from 1471, an able military commander and a man of piety.
The focus of this book is the events leading up to the pivotal battle at Bosworth Field in Leicestershire on 22 August 1485 in which Richard III was killed. Initially, the book considers the context for the Bosworth campaign in a succinct but useful discussion of how Richard came to the throne two years earlier and the unsuccessful opposition to that decision especially from the Duke of Buckingham. The bulk of the volume examines the actions of Henry Tudor and Richard III from Henry's landing at Milford Haven through to the highly personal end of the battle at Bosworth when Richard unsuccessfully tried to end the Lancastrian rebellion by killing Henry himself, something that he came close to doing. Peter Hammond takes account of the latest documentary and archaeological evidence for the campaign and the battle, considers the military skills of Henry (minimal) and Richard (considerable) and assesses the role played the experienced Earl of Oxford and by Lord Stanley in joining the battle on Henry's side. This is a vivid and perceptive account of the events in August 1485 and provides a very readable account of a seminal event in English history that teachers and students will enjoy.