Local History Month 2021
May is Local History Month
By Paula Kitching, published 1st April 2021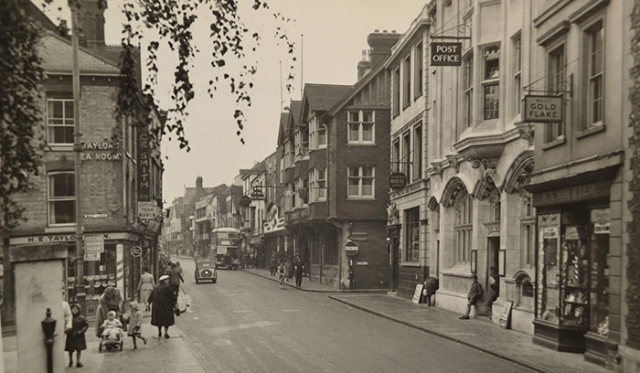 May is Local History Month and time to celebrate the local heritage that is all around us and time to get out and find out more.
While it may seem that the local area is the one place we do not want to focus on at the moment, it might just be the perfect time to do so. After all, most of us have seen little else in the last 12 months and although restrictions are easing they have not gone altogether. Local History and the local environment are very much entwined and we can learn so much from it and enjoy sharing that knowledge. The architecture of the buildings can provide so much information about the development of an area. One of the most valuable pieces of advice I was given when I first moved to London many years ago was always look up at the top of the buildings, don't just look at what the bottom of a building is used for now – I've taken that advice around the world with me as well as around the UK.
Building and street design can reveal so much about how an area has changed over time, while local parks and beauty spots tell us about how urban spaces have been used by different groups. Victorian water fountains, canal toll paths and war memorials provide an insight into the people who have lived in the urban landscape in the generations before us, whilst in the rural areas a peek at the hedgerows will tell us about how the area was farmed over the generations. There are plenty of books to help us find out this information and how to read the local area, as well as lots of information online in local archives sites.
Lots of schemes are currently looking for help in charting the way that the local area has changed over the years, especially during lockdown, so this month is an excellent time to get involved. It's an opportunity to record local history as well as be a student of it. It is also a good time now that we can meet up with more people to get together to plan events for Local History Month – a celebration of what our local area has done for us; alternatively a clean-up plan for how we want our local area to be better managed or looked after might be something that Local History Month can help to initiate.
Over the last 12 months you will have spent an enormous amount of time in your local area – turn what might seem to have been a negative into a positive by sharing what you have noticed. If you are thinking of ways to explore Local History Month or how to celebrate it then remember to register any events – virtual or real – with us at the HA. You can also use our template to advertise any talks, walk or plans. Let us know what you are up to on Twitter, Instagram and Facebook – just copy us in @histassoc and #HAlocalhistory21.
There is an old British saying about it being more likely to snow at Easter than at Christmas in the UK, and it is looking a little bit like that right now. But do not despair – the buds are on the trees, the birds are building nests, nature is carrying on, and so are we – time to share what we have learned along the way. Use a few more chilly days at home to really plan for that celebration of all that is local – heritage, nature, urban living: all of them deserve a shout-out this May!