Bengal History Week 6-14th October
Published 29th August 2012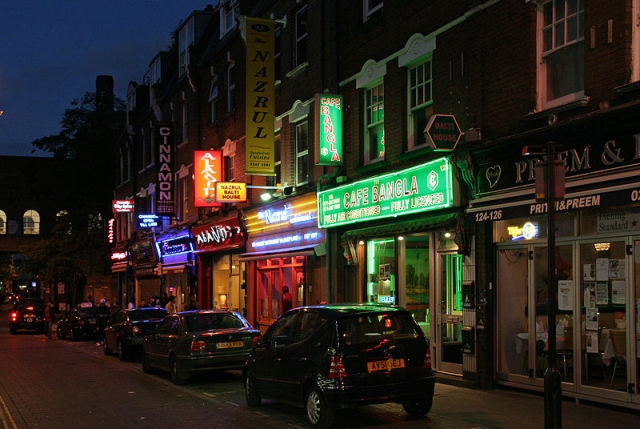 Brick Lane Circle is organising its third annual history week programme, designed to help generate and expand interest in learning Bengal's history and introduce historians and scholars to new audiences in non-academic settings.
Saturday 6 October 2012, 2-6pm
Brady Arts Centre, Hanbury Street, London E1 5HU
Launch of History Week with traditional Bangladeshi Feast Pictorial presentation of historical Muslim buildings and sights of Bangladesh
By Dr M Ahmedullah

Failure of the Pakistan experiment in East Pakistan: Economic Growth and Political Crisis 1947-71 By Professor Mushtaq Khan. He is Professor of economics at SOAS, who completed his PhD in Economics at Cambridge. Previously he taught at the universities of both Oxford and Cambridge. Information on his research interests are available on tp://mercury.soas.ac.uk/users/mk17/.
Sunday, 7 October, 2.30-4.30pm
Lab 3, Idea Store Whitechapel, 321 Whitechapel Rd, London E1 1BU
Rohingya: A Human Story - short film and presentation By speakers from Restless Beings http://www.restlessbeings.org/ British Charity, and International grassroots organisation
Monday 8 October, 7-9pm
Venue to be confirmed Keshab Chandra Sen: The International Life of Bengal's Forgotten Prophet
By Dr John Stevens. He gained his PhD from UCL in 2011, entitled 'Colonial Subjectivity: Keshab Chandra Sen in London and Calcutta, 1870-1884' (available online via UCL discovery). He will shortly take up a Leverhulme fellowship at SOAS, teaching the History of Modern Bengal and Modern Bengali Texts.
Tuesday 9 October, 7-9pm
Lab 2, Idea Store Whitechapel, 321 Whitechapel Rd, London E1 1BU
Bengali doctors, the legacy of Empire, the staffing of the NHS and the development of British general practice (1948 - 1983) Julian Simpson. He is a Research Associate at the Centre for the History of Science, Technology and Medicine at The University of Manchester. His recently submitted PhD thesis was on 'South Asian doctors and the development of general practice in Great Britain c.1948 - c.1983'.
Wednesday 10 October, 7-9pm

Venue to be confirmed

Role of history in identity formation A panel discussion: participants to be confirmed

Thursday 11 October, 7-9pm

Lab 3, Idea Store Whitechapel, 321 Whitechapel Rd, London E1 1BUThe Pals and Their Role in the Sanskritisation of Bengal
Dr M. Abdul Mu'min Chowdhury. He was born in Sylhet and had his education at the universities of Dhaka and Exeter. He held academic appointments at Mymensingh Agricultural University, Dhaka University and the University College London. His published works includes The Rise and Fall of Buddhism in South Asia: A study in History.
Friday 12 October 2012, 7-9pm
Brady Arts Centre, Hanbury Street, London E1 5HUTransnationalism and British Bangladeshi politics in the UK 1971-2011
Ehtashamul Haque. He is a freelance researcher and gained a PGD in Law & Community Leadership from Centre for Ethnic Minority Studies (CEMS) at SOAS. His research interest includes Transnationalism and British Bangladeshi community in the UK. He is also a community activist.
Saturday 13 October 2012, 2-6pm
Venue to be confirmed
The future that did not happen on the Bangladesh / India Border By Delwar Hussain. He is a writer and anthropologist focusing on the contemporary Indian Subcontinent. He was educated in London and Cambridge and has written on Bangladesh for The Guardian since 2009. Hussain's first book "Boundaries Undermined: The Ruins of Progress on the Bangladesh/India Border" will be published by Hurst in 2013.
Begum Zubeda Khatun Choudhury's contribution to bringing Sylhet into East Pakistan by 1947 Referendum. By Dewan Ahmed Rafi Choudhury. He was a tea planter, veteran of 1952 language movement, chairman of tea association and member of tea board (Pakistan period).
The Roots of Political Conflict in the Chittagong Hill Tracts of Bangladesh By Shapan Adnan. He was educated at the universities of Sussex and Cambridge. He has taught at the National University of Singapore, universities of Dhaka and Chittagong, and has held research appointments at the University of Oxford. His work / research cover may fields, including political economy, development, political sociology and South Asian studies.
Sunday 14 October, 3-5pm
Labs 2&3, Idea Store Whitechapel, 321 Whitechapel Rd, London E1 1BU
Impacts of Moghul Rule in Bengal By Tapan Raychaudhuri. He studied PhD at
Balliol College (Oxford). His academic career included teaching at University of Delhi, as the Reader of South Asian History at St Antony's College (Oxford) and as a Guest Professor at several universities in USA and Australia. He has published many books, including
Bengal underAkbar and Jahangir
;
Europe Reconsidered
a contributory to the
Cambridge Economic History of India, vol. I and II.

Sunday 6 October 2012, 7.00-8.30pm
The Rich Mix Centre, 35-47 Bethnal Green Road, London E1 6LA
Muhammad Ali Goes East: Bangladesh I love You - A documentary film made in 1978, which records Muhammad Ali's tour of Bangladesh following his defeat in 1977 by Leon Spinks. Directed by Reginald Massey. Ali is taken to Sundarbans (UNESCO World Heritage Site), Sylhet Tea Gardens, Rangamati and Cox's Bazaar. In Dhaka, the capital city of Bangladesh, Ali is given a Bangladesh passport and made a citizen of the country by the then president of the country, Ziaur Rahman. The climax of his tour was a pre-arranged boxing match at Dhaka Stadium, where he lost to a twelve year sold his Bangladeshi rival through an amazing knockout.