The Russian Revolution - Fort Nelson Commemorations
100 years on
Published 2nd August 2017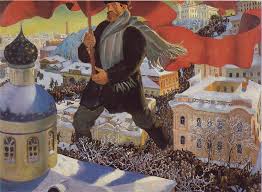 To commemorate the hundredth year after the Russian Revolution, Royal Armouries museum at Fort Nelson are inviting visitors to attend an after-hours talk on Wednesday 20 September with guest speaker Dr Paul Flenley.
Dr Paul Flenley, Subject Leader and Principal Lecturer in Politics and International Relations at Portsmouth University, will reveal some of the findings he uncovered whilst researching 'The Russian Revolution: 100 years on'.
The 1917 Russian Revolution was in many ways the pivotal event of the Twentieth Century. This talk will assess the consequences of the revolution. It will look at how the attempt to build a new society inspired many throughout the world but also led to the establishment of Stalinist-type dictatorships. The revolution led to the ideological division of the world. Even after the end of the Cold War the continuing consequences of the collapse of the Soviet Union mean the revolution still has real impact today.
Wednesday: 20 September
Time: 7 pm – 9 pm
Tickets: £5 per person and includes refreshments
Tickets are available in advance from the Royal Armouries website.
Links: