HA Tour of Portsmouth
Portsmouth and the defence of the realm
By Elizabeth Yarker and Kathleen Morris, published 10th December 2020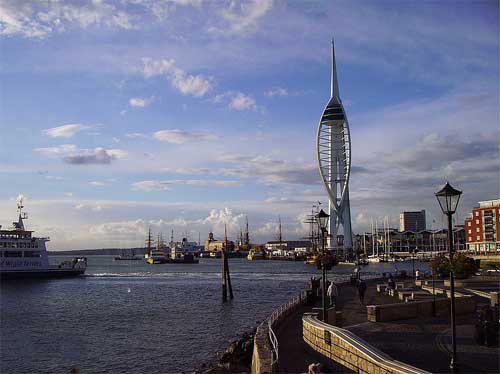 Monday 14th June – Monday 21st June 2021
Tour Leaders: Elizabeth Yarker and Kathleen Morris
HA Tour of Portsmouth
Our hotel, right on the beach in Southsea, very near Portsmouth Historic Dockyard, is an excellent base for our survey of nearly two thousand years of defence, from the Saxon Shore Fort at Portchester, with its Norman castle in one corner and church in another. But first, the Mary Rose, revealing so much about Tudor times, and HMS Victory and Trafalgar. We shall have plenty of time to visit the Royal Navy's first iron-clad, HMS Warrior, and M33, only survivor of the Gallipoli Campaign, and much, much more. We will get our bearings on a Harbour Tour. With luck, one of the new Aircraft Carriers will be in harbour.
Operation Overlord was planned in Portsmouth, commemorated at The D Day Story. We see the dramatic D Day Tapestry, and LCT 7074, only surviving tank carrier. Just behind the D Day Story is Henry VIII's Southsea Castle. Southwick House, General Eisenhower's HQ, is a short but safe distance from Portsmouth. We visit the D Day Map Room there. Fort Nelson, one of 'Palmerston's Follies' illustrates 1860s fortifications. Do its guns 'point the wrong way'? The Royal Armouries Museum think not. We find out why.
The Isle of Wight is enticingly close, we board the ferry to visit Carisbrooke Castle, Charles I's nemesis, and enjoy Osborne House, Queen Victoria's holiday residence. We can't miss Fishbourne Roman Palace, vast and intriguing, close to Chichester, where we head for the Cathedral, a real gem. We pay our respects to the RAF at Tangmere Museum. Somewhere very different, Butser Ancient Farm finds practical answers to puzzling archaeological questions. Arundel Castle has it all.
HOTEL: Best Western Royal Beach Hotel, St Helen's Parade, Southsea, close to Portsmouth Harbour station and to the M275
COST: £955 per person, with £10 single supplement. The price, based on a minimum of 20 includes dinner, bed and breakfast, coach travel, entry fees and guided tours. Organised with Greatdays Holidays Ltd of Altrincham, ABTA and ATOL protected.
For full details and booking forms please contact: Elizabeth Yarker, 35 Prestwich Avenue, Worcester WR5 1QF Tel 01905 352997 or email kathleen_morris3@hotmail.com