February is LGBTQ+ History month
Published: 1st February 2021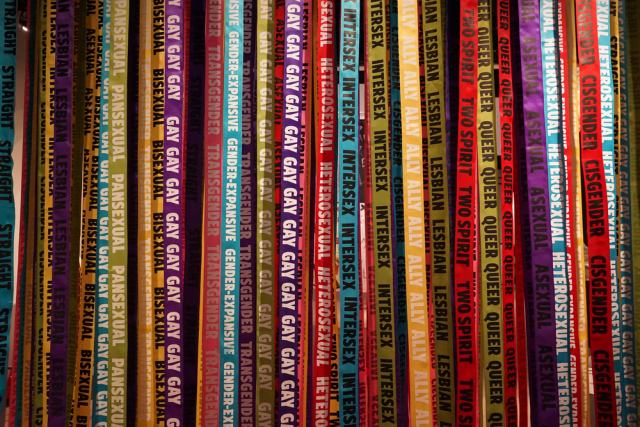 We're aware that designating a single month for a group or a cause can seem a little patronising, and might be misconstrued as meaning that you can ignore that cause or group for the rest of the year – but that is not why we do it.
For us, having a theme for a month is a way of raising awareness about that issue, and is a quick reminder that there wouldn't be a need for a themed month if there was enough done about the issue throughout the rest of the year. For an organisation that is concerned with history, having a themed month that covers LGBTQ+ history helps us to tell the stories of those people from the past who were part of this group but also to discuss the history of how that movement has fought against prejudice and developed.
In this case the development of the movement and the physical, mental, societal, and legal restrictions that have been placed on people because of their sexuality is an important aspect of UK and world social history. Being able to re-examine the past is part of the role of contemporary historians and so exploring how the past can be presented, or how the past has affected current day attitudes and even language, is important.
The history of sexuality and of the LGBTQ+ movement demonstrates how different generations are able to express themselves and how those expressions can enrich the whole of society more widely. In addition, highlighting the restrictions that have been placed on people both in the past and present is important if we are to allow history to enable us to examine our world more clearly.
Therefore, we are celebrating LGBTQ+ issues during the month of February and once again highlighting the many issues that people of that community have had to face throughout history.
Join with us by listening to some of our new and old podcasts on the subject.
LGBTQQIA+ is used currently and stands for lesbian, gay, bisexual, transgender, queer, questioning, intersex, and asexual people. It is not possible to update all our resources to use that term and in many ways, nor would we wish to as articles and resources of the past are part of the ephemera that demonstrates the changing language around this subject. We hope that people will realise that by using LGBTQ+ we are hoping to include everyone, even if they are not listed.