Beowulf 1000: A celebration of a heroic poem
Published 20th December 2009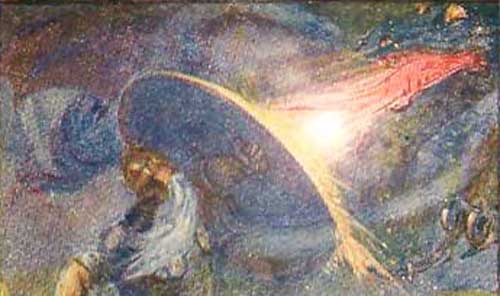 Sun 25 Oct 2009 - Sun 31 Jan 2010
Sir John Ritblat Gallery, British Library
Price: Free
To celebrate 1000 years since the creation of Beowulf, the original manuscript will be on display in the Sir John Ritblat gallery: Treasures of the British Library. It will be accompanied by other items relating to the poem, emphasizing that this is very much a living text.
Accompanying the Beowulf manuscript will be; Seamus Heaney's typewritten drafts of his translation of Beowulf, with the author's annotations, and one or more of Michael Foreman's original illustrations for Michael Morpurgo's children's version of the poem.

The story tells of the valour and great deeds of the warrior Beowulf as he struggles with the vile monster Grendel and other supernatural beasts. It remains immensely popular to this day, regularly retold in modern translation, in films, on stage or in comic books. At the same time it exists as a literary masterpiece that gives real insight into the life and social structures of the early medieval world.
For more information about Beowulf

In celebration of the new display there will be a four-day celebration of the Anglo Saxon epic Beowulf in performance, readings, discussion, family events and workshops.
As part of this short season, we are proud to welcome some of the greatest contemporary exponents of Beowulf - Benjamin Bagby, Seamus Heaney and Michael Morpurgo - as well as historian and television presenter Michael Wood, who recently devoted a BBC2 special to the poem.
For more information and to book

Publications
Two linked publications will coincide with the Beowulf 1000 season.
Electronic Beowulf student edition
In 1993 Professor Kevin Kiernan, the leading authority on the Beowulf manuscript, initiated the Electronic Beowulf project, which used new technologies to present the manuscript sources, including covered readings, for the research edition of Electronic Beowulf (1998, 2003). Now the British Library is delighted to announce a new edition on CD-ROM, created for students and general readers to explore this iconic manuscript. The Student Edition encompasses a huge database of digital images, and adds new guides to the language, the grammar, and the metre of the poem and new interface devices give easy access to all these features.
Available to purchase from the British Library shop from 25 October 2009
Treasures in focus: Beowulf

We are proud to announce the launch of a new Treasures in Focus. This pocket-size introduction reproduces key pages of the poem, and describes the history of the manuscript, not least its escape from fire in the 18th century. The images are accompanied by extracts from the translation by William Morris, published originally in 1895.
Available to purchase from the British Library shop from 15 October 2009