Road to London by Barbara Mitchelhill
Young Quills Review
Last updated: 20th November 2015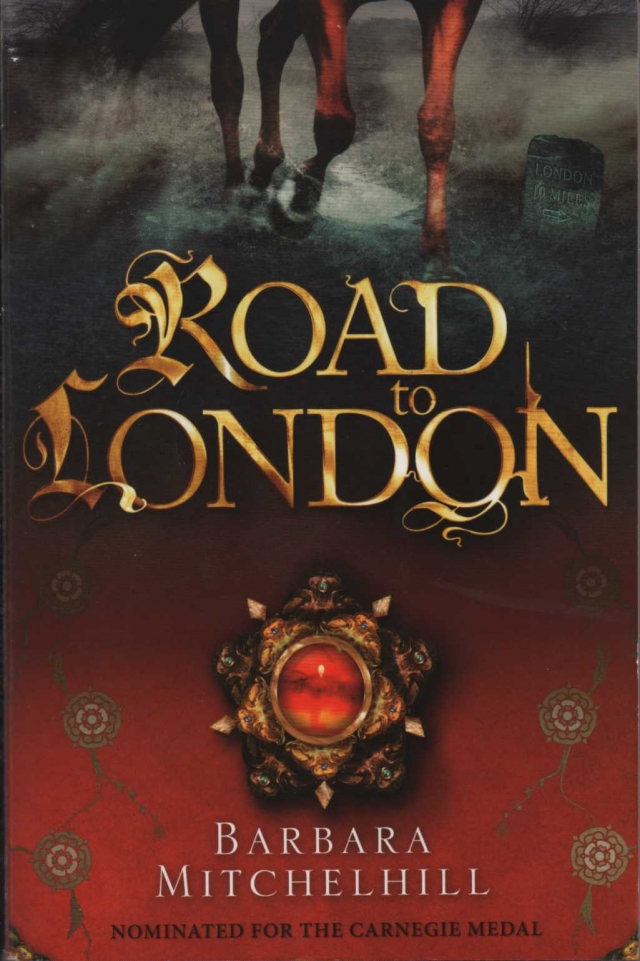 1. 'Road to London' is an adventurous, historical children's novel set in Elizabethan times. It was a very gripping book that I could not put down until the final full stop. I chose this book to read because it looked interesting as I had not read an Elizabethan book before. The blurb on the back was very effective in drawing the reader in- 'Plots, treason and drama!'
Thomas Munmore, the main character of this book, lived in Stratford upon Avon. His family wasn't that rich or poor and he wasn't particularly extraordinary: a young scholar who liked to get up to all sorts of mischief; but Thomas had a dream- to be a part of William Shakespeare's acting troupe- The Lord Chamberlain's Men. His ambition led him into many perilous situations but he and his new-found friend, Alice, help each other through on the 'Road to London'.
I thoroughly enjoyed this dramatic story with all its twists and surprises in the plot. I was never bored or disappointed because of the many positive aspects of this story: I especially liked the nail-biting climax, including unseen danger to royalty! The language used in this book is appropriate for children of all ages but may not challenge an older reader.
In summary, Barbara Mitchelhill has done an excellent job of describing authentic and intriguing characters and settings to construct an original Elizabethan story.
Shakespeare would be proud!
Reviewed By Kate
2.
This book is set in 16
th
Century England, when Shakespeare was living in Stratford-upon-Avon with his wife and family. When young scholar Thomas meets Shakespeare and is given a chance to join his acting company he takes it and finding his way to London with his friend Alice and a pocket full of coppers, he finds himself preventing a plot to kill the queen.
I really enjoyed this book once it got started but it took a while to do so. I think it was a great plot and a great look into the 16th Century.
Reviewed by Alice
3. Road to London is a fantastic book written by the amazing Barbara Mitchelhill. This book is based on a boy called Thomas who wants to go to London to become an actor in Shakespeare's plays. Before he sneaks off to London he finds his hero, Shakespeare and has a little chat with him about running off and becoming a part of the Chamberlain's men. On his way to London, he finds a girl called Alice and they become friends.
Later on in the week, he finds Shakespeare and the Chamberlain's men and they let him become part of the group. He acts in many plays, but Alice also wants to be part of the Chamberlain's men. She knows that they wouldn't let her if they saw she was a girl, so Thomas introduces the new Alice to Shakespeare with her hair really short and her clothes tattered. As a result, Shakespeare agrees for Alice to be part of the group.
Although Shakespeare doesn't recognise Alice at first, but Thomas and Alice decide to tell the truth. At first, Shakespeare is furious, until he changes his mind when he realises that if he has been fooled then everybody else will be.
They are told that they will be performing at the Queen's castle. Although, they perform brilliantly, after the show, they are accused of trying to kill the Queen. Alice and Thomas beg not to be sent to the Queen's dungeons. Luckily, the Queen agrees with them that they didn't try to kill her and that she thinks it was somebody else. In the end they find the two men that are responsible and they are sent to the dungeons.
I really enjoyed reading this book and would recommend it to somebody who really likes historical characters like Shakespeare.
Reviewed by Millie
4. Road to London is one of the best books I've read. It's about a boy, Thomas, who wants to be an actor, but doesn't know how much danger he will put himself through to be one.
The main character is Thomas and all his life he has wanted to be an actor. He meets his all-time hero, William Shakespeare. When he watches one of Shakespeare's plays, he meets one of the actors who tells him he can join their group in London; so Thomas's mind is made up, he will go to London.
He does all sorts of things to try and go to London, until he gets caught fishing in a private garden and has to run away. While on the run, he meets a girl who comes along with him to London to go home to her family. When they get there, they find themselves wound up in a plan to poison the Queen.
Overall, I love this book and would recommend it to anyone. I couldn't put the book down, especially when they are performing in front of the Queen. Each chapter is filled with exciting verbs, powerful vocabulary and adventures; you become totally gripped. Mitchelhill's imagination makes all her characters life-like. Her detailed style of writing helps to express their emotions. It's a great book and includes historical facts about the Elizabethans.
Reviewed by Sallie