The Apothecary by Maile Meloy
Young Quills Review
Last updated: 20th November 2015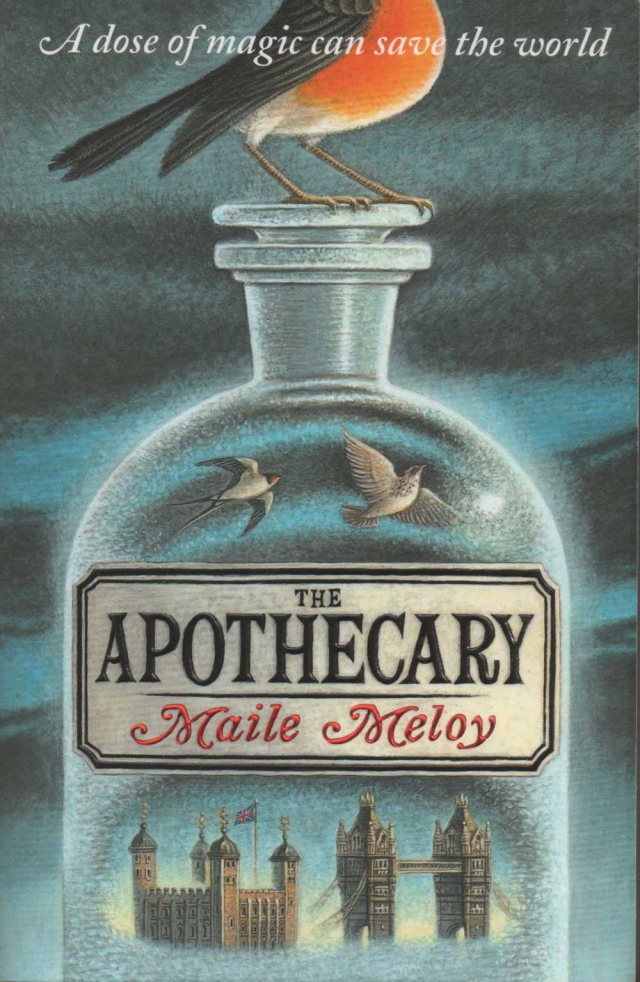 1. The Apothecary is an historical/ fantasy book set after World War II. The book is full of adventure, mystery, suspense and romance. This book will transport you to a magical land where all seems possible...
The book tells the story of a teenage girl called Janie Scott who moves from sunny Los Angeles to dreary London because her parents are suspected communists. Life seems awful (for example at school) until she meets Benjamin Borrows, a humble boy who turns Janie's life around. Ben's father, a kind local apothecary, is apparently kidnapped by German spies, but not before he passes the two teens an ancient book and instructions to protect it. Janie and Ben discover many wonderful secrets and spells, for example changing into birds and becoming invisible but there are others who seek to gain it. Janie, Ben and their friends are searching for not only Benjamin's father but also to stop the Soviets from exploding their atomic bomb. Will Janie and Ben survive on their wild adventure?
This book is great! Although the language is sometimes challenging to understand it is written in such a way to make it easier to follow. The characters are busy saving the world whilst dealing with their teenage lives! The story moves fast and every detail is important.
The book is an educational story and l learnt that seven years after the World War, London was still recovering while America was carrying on with everyday life.
I recommend this book to anybody who wants an enchanting read.
Reviewed by Ania
2.
The Apothecary is a magical book full of wonder and excitement: it is definitely a page turner.
The book is about a girl called Janie Scott who has just moved to London from the sunny shores of L A (California). She meets a boy called Benjamin Burrows whose father is a mysterious Apothecary. Benjamin dreams of becoming a spy and Janie is determined to follow him every step of the way-rain or shine.
The book is set just after World War Two so, as you can imagine, London was not in its best state and Janie could certainly see that.
I really really enjoyed this book, mainly for its mystery and intriguing story lines. Every new page I turned made me clench the book with my fists more and more!
I read this book much quicker than I thought I would, it felt like fifteen chapters not a whopping thirty eight.
Thank you so much, Maile Meloy, for letting me read this fantastic novel. It was a gripping read.
Reviewed by John
3.
I really enjoyed reading The Apothecary because it was really interesting - it had a very good plot and by the fourth page I was hooked. I especially loved the way that the author, Maile Meloy, put a twist at the end of the story as the final outcome was completely unexpected. I also love that the book is normal life with no magic on the side rather than just complete magic through the whole story. If I had to rate this book it would be 100%!
Reviewed by Francesca
4. Apothecary is an incredible book by Maile Melroy about a girl called Janie, who has just moved from sunny Los Angeles to wet and cold London and she hates it. That is, until she meets Benjamin Burrows, the son of an apothecary. When his mysterious father is kidnapped, they are dragged into a world of magic and spells.
I think that The Apothecary is a fantastic book and I would definitely read it again. I recommend it from ages 9 to 13.
Reviewed by Caitlin
5. Apothecary is a great book set in WW2. The main characters Janie Scott, Benjamin Burrows (the mysterious Apothecary's son) and their pickpocket friend, Pip, embark on an adventure to save the captured Apothecary and also to save the world from spies in possession of nuclear weapons that could destroy the world. They are also seeking the book that the Apothecary has entrusted to Benjamin and Janie.
Along the way they meet JinLo, who helps them greatly in the finding of the Apothecary. Benjamin, Janie and Pip discover that a dose of magic can save the world. A really good book.
Reviewed by Ysobel