The Great Escape by Megan Rix
Young Quills Review
Last updated: 20th November 2015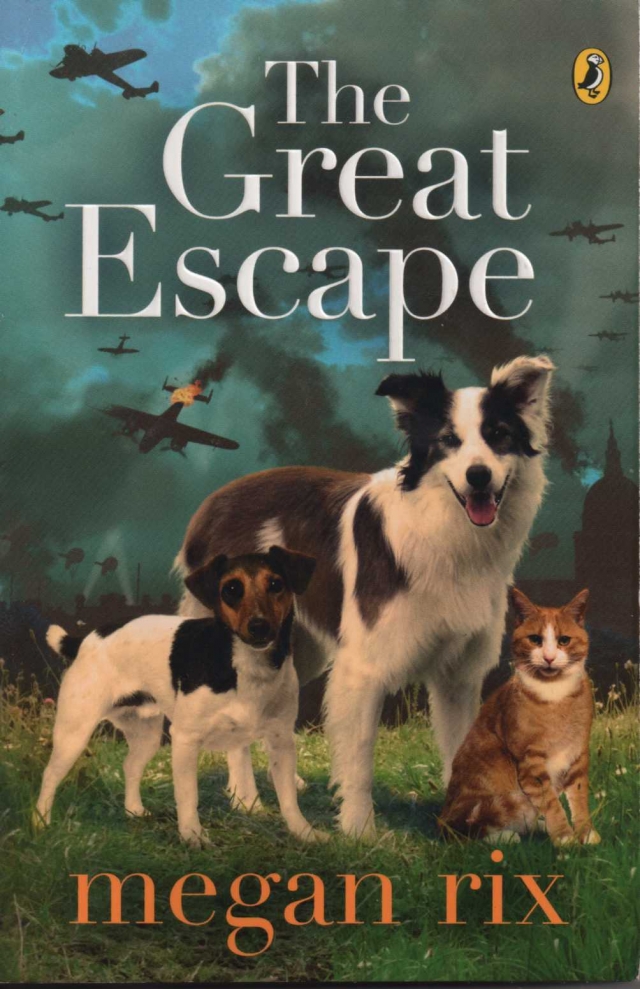 1. The Great Escape is a gripping tale of three extremely brave animals. It tells the story of Rose, a beautiful old collie, Tiger a young ginger tom cat, and Buster, a black and white Jack Russell, who brings most of the humour to the book.
Although I normally would not choose to read this type of book I found it thoroughly enjoyable. It captivated me more with every page I turned. I found it very interesting from a historical point of view as well because it was set in the lead up to and beginning of World War two.
The animals all live with the Edwards family in London. When war is declared, the father is sent off to fight, the mother is sent away to work as a nurse, and their children are evacuated to Devon where the family originally came from. The animals are left in the care of some friends. But whilst Mrs Harris (the friend of the Edwards) is at work, Mr Harris (who hates the animals especially Buster) is plotting to take them to the local animal shelter to be put down. Rose quickly realises that if she enters the shelter she will not come out. She makes a daring escape and the others follow. As she was born in Devon she decides to head there, not knowing what a dangerous journey lies ahead.
I think the entire book was incredible especially the detailed setting, but what I found the most interesting was that the animals and children never gave up hope even when most people around them were saying that war was never going to end.
Overall I found this a sweet book which I will recommend to all my friends. Now that I have read it I think my understanding of the suffering endured during the second world war has grown tremendously.
Reviewed by Maddie
2.
I really enjoyed this book because there were lots of exciting events and it was not a boring read. My eyes were glued to this book everyday. Megan Rix is a great writer and I hope to read more of her in the future.
Reviewed by Molly
3. The Great Escape is a mesmerising story by Megan Rix about 3 pets and 3 child evacuees. The book starts at the Edward family home with the 2 Edwards and their 3 pets. But then the air raids start. Buster, Rose and Tiger are quickly evacuated to the Harris home, to the horrible Mr Harris and his kind wife, even though she is a woman who has never owned a pet in her life.
Lucy and Robert Edwards are taken to a church where Lucy meets unkind pincher Jane. They also meet a 5 year old boy named Charlie Wilkes who, as the adoption begins, is left by himself, but luckily Lucy persuades Mr and Mrs Foster to adopt Charlie as well. Meanwhile the animals are adventuring from Devon (where they are living) back to London and hopefully back to Lucy and Robert.
In the end they all make it back to London and are allowed to live in their old house. I would recommend this book to 8-12 year olds learning about the war. It is well written and the excitement builds up in each chapter, as you read about the adventures of the animals making their daring escape across the country.
Reviewed by Matthew
4.
The Great Escape is a fantastic book based in the Second World War written by Megan Rix. The Great Escape is about three animals called, Buster the Jack Russell, Tiger the white and ginger tomcat and Rose the Collie. They set off on a journey to Devon because of the war to find their owners Robert and Lucy Edwards, but they soon find out that their journey is not going to be an easy one.
Megan Rix shows in each and every character how they are feeling different emotions. I thought the book was amazing. I loved the part when Robert and Lucy's grandmother was digging loads of holes in her garden then in the end of the story she moans that they need to be cleaned up. I think The Great Escape is a brilliant book and I would recommend this book to children aged 6-15.
Reviewed by Millie
5. This is an exciting adventure book which is set in World War Two. It is about three pets, Rose- a faithful collie, Buster- a lively jack russell and Tiger a white and ginger tom, who journey to Devon to find their evacuated owners: Robert and Lucy Edwards.
The storyline was good as it kept me wanting to read more and more. The setting went through towns, woods, countryside and by the sea. It was mainly focused on the pets' journey. I have two favourite characters: Lucy and Rose. Lucy because when Michael brought Buster to her and Robert she didn't lose faith in Rose or Tiger. She thought they were still alive! Rose because "even though her paws ached and she caught a meagre catch," she didn't give up no matter how hungry she was or how sore her paws were.
This is a good book, even though I am not so keen on adventure. It helped me learn about World War Two. I would recommend this book to anyone, especially anyone who likes animals or adventure books or anyone more about World War Two.
Reviewed by Zakiyaa