The Quest of the Gods by Dan Hunter
Young Quills Review
Last updated: 20th November 2015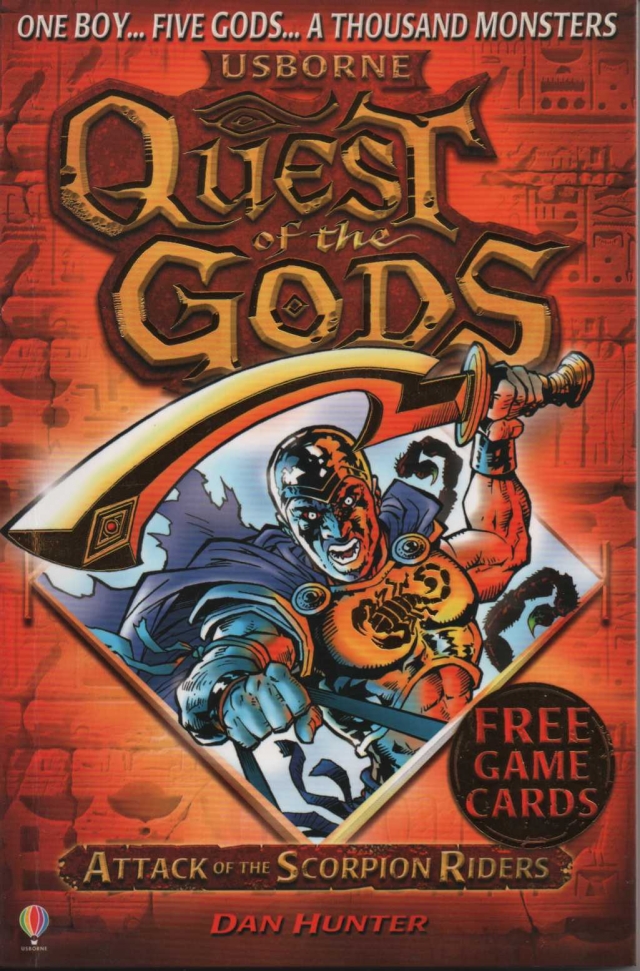 1. The Quest of the Gods is the story of Akori and his battle with the Scorpion Riders. The plot follows Akori as he tries to free the sun god Ra. Once I had read the first chapter, which was slow to begin, I found the story exciting with lots of twists and turns.
The book is a historical tale of Ancient Egypt. By reading this book, I was able to find out a few new facts about the Egyptian pharaohs at that time. If I were to be critical of the text, I would say that there was not much information about what life was like at that time.
The illustrations by Jerry Parris added to the appeal of the book, because it allowed me to imagine the setting of the story. His pictures were detailed and accurately drawn - a bonus to the book.
Overall, I would recommend The Quest of the Gods to boys who are 9-11 that like adventure stories, especially those set in times gone by.
Reviewed by Alexander
2.
Set in Ancient Egypt, The Quest of the Gods, is an action packed adventure to free the Sun God Ra.
Akori is a normal boy up until the day his uncle's farm burst violently into flames. Suddenly, Akori is chased by evil Scorpion riders to a monastery. At the monastery the mighty king of all Gods chases Akori to save his people who have been captured by the evil pharaoh, Oba. Akori, accompanied by his best friend Manu, sets off to free Ra. On the way they meet a vicious snake which they are forced to slaughter to save their lives.
As soon as they arrive, intense fighting takes place. The brave Akori and Manu take on their opponent, the ferocious snake Goddess Wadjet. Akori fought for a short time, but was distracted by Ra's gigantic sun barge, so let Manu do the fighting. Akori reached the barge just in time. Speedily, he freed Ra and went to help Manu in the intense battle. They fought, but Ra's powers were too strong for Wadjet as he cast an extremely bright light over all of Egypt for a few moments then stopped.
The power had killed Wadjet - it was astonishing. RA spoke to Akori in a deep voice and gave him the golden necklace. The adventure continues in a series of five books, the next book is the Curse of the Demon Dog.
Personally, I think this would be a suitable book for ages 8-10.
Reviewed by Jacob