Webinar series: Boosting subject knowledge at Key Stage 1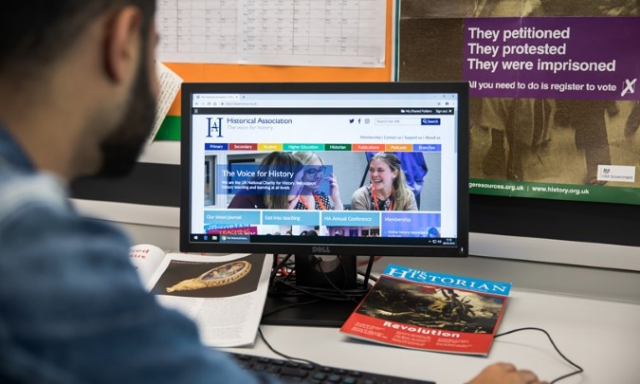 The National Curriculum requires children to develop a "coherent knowledge and understanding of Britain's past and that of the wider world." At Key Stage 1, "pupils should develop an awareness of the past, using common words and phrases relating to the passing of time. They should know where the people and events they study fit within a chronological framework and identify similarities and differences between ways of life in different periods. They should use a wide vocabulary of everyday historical terms."
At the Historical Association, we know that knowing a topic well will lead to better teaching. Regardless of experience, primary practitioners do not always have room to develop their subject knowledge or teaching ideas for National Curriculum history topics, which is why we have designed a new series of webinars highly relevant to National Curriculum history to support that development.
Fresh from the very successful series Boosting subject knowledge at Key Stage 2, we are now extending the series to cover Key Stage 1 history topics covering a range of ideas for studies of significant individuals and events beyond living memory. Each webinar is available to book as a stand-alone as well as block booking and booking for the entire series. HA members can enjoy discounted rates and the first webinar in the series is free for members. Webinars in this series are also eligible for corporate members to use their free webinar recording code.
Programme
Capture the sights and sounds of the insanitary and overcrowded capital city of Stuart England in 1666 with Andrew Wrenn. Compare how city fires were fought in London then and today, learn why the Great Fire spread so quickly from Pudding Lane, hear how Samuel Pepys the diarist witnessed events and consider the Great Fire's consequences and significance over time.
Beyond living memory: All the fun of the fair
6 May, 4–5pm
We all enjoy a visit to the fair, don't we? There's always a bit of a buzz when the fair comes to town. In Alf Wilkinson's village it arrives just in time for Feast Weekend, in the summer holidays. The rides might not be as big as at Alton Towers or Skegness Pleasure Beach, but it is still a bit of an adventure. But what was it like going to the fair 100 years ago? Or 200 years ago? And how has going to the fair been influenced by changing climate? In this webinar Alf Wilkinson will explore change over time by visiting the local fair.
In this webinar with Andrew Wrenn, investigate the design and construction of an 'unsinkable' luxury liner. Follow its maiden and only voyage from Southampton in 1912 to its fateful rendezvous with a massive iceberg in the North Atlantic, weigh the factors that contributed to its sinking, understand what it reveals about the Edwardian period and why the ship continues to fascinate people over 100 years on.
The National Curriculum suggests comparing significant individuals to enhance our children's knowledge of what makes someone significant. But who to choose? This webinar will suggest a range of individuals around the theme of travellers and explorers, including Christopher Columbus and Neil Armstrong. Perhaps some of them can be used to widen our knowledge of the world, and provide an insight into areas of history we don't normally study.
Coming out of the current pandemic it's sometimes easy to forget how much medicine and public health have improved over time. Hear about the lives of a range of significant individuals who were pioneers in their time, including the British nurses Florence Nightingale and Mary Seacole who made important contributions to medical progress during the Crimean War but who have been remembered in strikingly different ways afterwards, establishing rival reputations which still battle for recognition today.
Hear about an array of different significant individuals who reflect Britain's historic diversity, pairing distinctive figures for comparison from different periods and including contrasting pioneers for racial and gender equality: the African-American civil rights activist Rosa Parks and the white British suffragette martyr, Emily Davison who threw herself under the Kings horse at the Derby in 1913.
Booking options and costs
Each individual webinar will be available to book online via Eventbrite. If you wish to make a block booking of multiple webinars, please complete the booking form to make a booking and request an invoice.
Please note that we are only able to process manual bookings and invoices for block bookings, otherwise an Eventbrite booking must be made by following the links above.
| | | |
| --- | --- | --- |
| Number of webinars booked | HA Member ticket | Non-member ticket |
| 1 webinar | £30 | £50 |
| 3 webinars | £80 | £130 |
| 6 webinars (full series) | £130 | £200 |
Please note that the webinar marked with an asterisk (*) above will be available free to HA members (booking required). Please note that all webinar prices are subject to VAT, as well as Eventbrite fees if booked online. All paid webinars in this series are eligible for the corporate member free recording offer. Please see the terms and conditions for information on how to redeem this.
All Historical Association webinars are subject to the HA CPD terms and conditions. For enquiries please contact events@history.org.uk.