Crossing the White Line: The Walter Tull Story website
Published 16th September 2008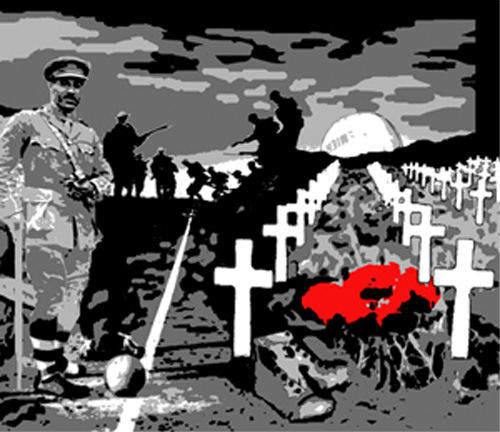 An initiative put together by City of Westminster Archives and Walter Tull biographer, Phil Vasili and funded by Kick it Out and the Heritage Lottery. The website is part of a larger project, which aims to raise awareness and celebrate the short but historically significant life of Walter Tull, a uniquely brave, gifted and determined man, whose life reads like an epic adventure; he was a leader of men, a national hero, yet his story still remains largely untold.

The year 2008 is of particular importance, 28th April, 2008, marks the 120th anniversary of Walter's birth and 25th March, 2008, the 90th anniversary of his death. It is also poignant that these anniversaries occur when at 11am, on the 11th November, nations will be remembering the 90th anniversary of the end of the First World War. Britain's national Armistice celebrations will focus on Westminster Abbey and the Tomb of the Unknown Warrior who represents all soldiers, like Tull, who have no known grave.

While, in the past, these remembrance events have sometimes been criticised as Euro-centric, Walter's story confounds this perception by broadening our understanding of Britain's multi-ethnic past, thus attracting interest from a wider cross-cultural audience.
There are two related exhibitions in London featuring animated films made by primary school children:
'Crossing the White Line: The Walter Tull Exhibition' will be showing from 31.10.08 - 05.01.09 (weekdays only 10.30am - 4.30pm) at Methodist Central Hall, Storey's Gate (opposite Westminster Abbey), Westminster, London SW1 9NH.
The exhibition celebrates the short but historically significant life of Walter Tull, Britain's first black army officer who served and died in WW1. He was also the second black professional footballer in England, playing for Tottenham Hotspurs FC and Northampton Town FC. Methodist Central Hall houses the Historic Roll, which includes Walter Tull's signature from when he arrived at Bonner Road Methodist Orphanage in East London. The Historic Roll will be on display throughout the exhibition.
For more information please call 020 7222 8010 or email visitorservices@c-h-w.co.uk
The other exhibition 'Not Forgotten' and is currently on display in Westminster Abbey until 26.11.08. For visiting hours please visit http://www.westminster-abbey.org/calendar/
The exhibition focuses on four soldiers - Walter Tull; Capt. Francis Swainson MC; Thomas Highgate (the first man to be executed for desertion) and Richard Monty Daniel - each of whom has no known grave. The animated film features a person close to each of these men, who travel in the same train compartment on their way from various stations starting in Kent to London Victoria to attend the burial of the Unknown Warrior on Remembrance Day 1920.
The film was made by children from four schools, each of which learned about a soldier local to them. The participating schools were Mundella Primary School, Folkestone (Walter Tull's old school); Birkbeck Primary School, Sidcup (Thomas Highgate); All Saints C of E Primary School, Chatham (Richard Monty Daniel) and St. Vincent de Paul RC Primary School, Westminster (Capt. Francis Swainson).
The Not Forgotten 8 minute long animation is now live on the BBC Kent website until the end of November, to see it go to Not Forgotten Animation