Primary History 83: Out now
By Karin Doull (editor), published 11th November 2019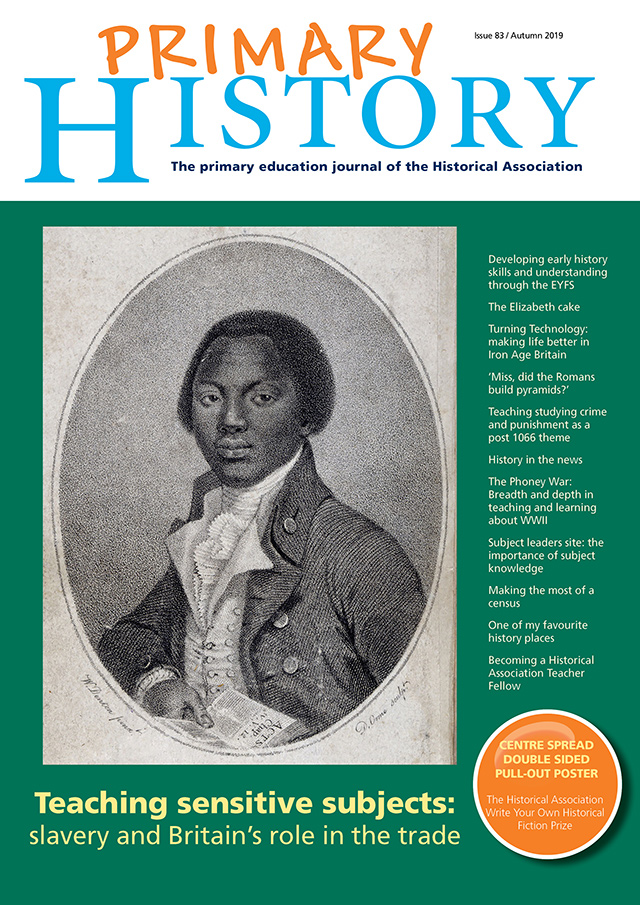 Access Primary History 83 – Free to HA Primary Members
Editorial
Once again we have a wide variety of articles to pique your interest and suggest new ideas or approaches that you might try out in school.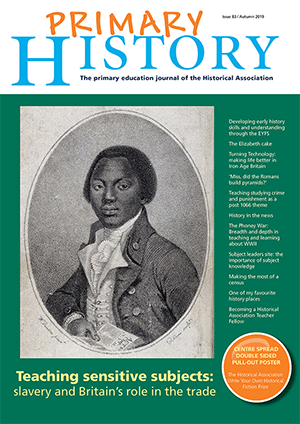 I am constantly impressed by the sheer range of contributions that we receive for this journal. While you will find a number of regular contributors in this edition we also have articles from student teachers and classroom teachers. We hope that you will be able to find something here that will spark your interest, suggest a new strategy to try or build up your subject knowledge in some way. It is always wonderful when we meet someone who says 'I read your article and tried …'
In this Black History month Susie Townsend considers the difficult subject of slavery and how this might be approached, identifying some of the key controversies that underpin any attempt to teach this theme, particularly with primary age children. Emily Dickenson, a final-year student, shares the work she was doing helping young children understand the concept of passing time. Sue Temple and Debbie Graham use maths to explore a local history site while Tim Lomas shares his favourite place suggesting how this might link to appreciating technology and engineering achievement.
Sandra Kirkland reminds us what a treasure trove of historical information is hidden in old school log books, so you might want to dust off yours to see what possibilities they are hiding. Long-time contributors Alf Wilkinson and Tim Lomas provide us with come comparison studies helping us to look beyond a specific event or period. Matt Sossick reminds us of the 'phoney war' period, the calm before the storm of Blitzkrieg eighty years ago. Next year will see the eightieth anniversary of one of the catalyst years of the Second World War with the evacuation of Dunkirk, the Battle of Britain and the Blitz, all of which have shaped our national narrative.
Finally Lisa Bell, one of our first primary Teacher Fellows, talks about her experience of the CPD programme. Interviews with those who completed the programme showed what a powerful experience it had been for all. There are going to be more opportunities for primary teacher fellowships so do keep an eye on the CPD opportunities area of the website and put your application in. You may need to beat Lisa to it as she wouldn't hesitate to apply again!
Next edition
Our next edition of Primary History will be taking a different perspective. It will be a special edition that will focus on some of the current initiatives that are shaping primary practice. Helen Crawford will consider implications of the changes to the Early Learning Goals. Other articles will focus on meeting different aspects of inclusion, managing transition, the 'knowledge rich' curriculum, using historical vocabulary and approaches to using knowledge organisers, children's views of history and (just to whet your appetite) 'Epistemic Insights'! All this could be coming soon to a staff room near you.
Links: