Subject Leader Development Programme
January–March 2022 cohort - FULLY BOOKED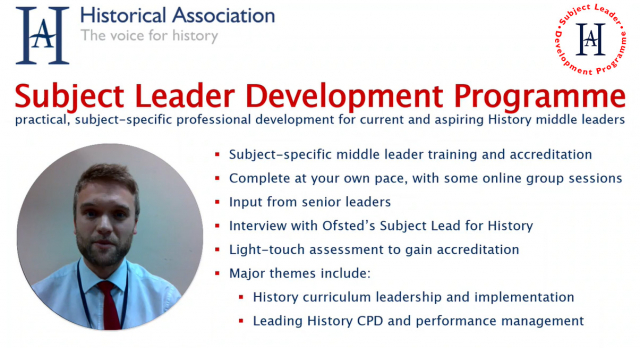 Subject Leader Development Programme: Jan–March 2022 cohort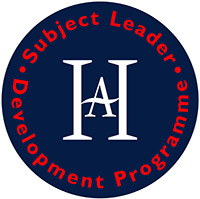 The Subject Leader Development Programme is currently fully booked - we will be posting new dates soon.
The Historical Association is pleased to announce a brand new online course for developing subject leadership in history teaching. Led by a team of 6 experienced subject leaders, including Hugh Richards, Sharon Aninakwa, Ruth Lingard, David Hibbert, Elizabeth Carr and Catherine Priggs, this course will equip history leaders fully for the demands of the role and middle leadership. Find out more
Please read the SLDP terms and conditions carefully before you register for a place on the programme. Please also refer to the CPD Events terms and conditions.
Payment must be made online by card, however you can request a VAT receipt following payment by emailing events@history.org.uk
NB this page is for the Jan-March 2022 cohort – alternatively you can register for the Apr-July 2022 cohort (subject to availability)
If you're not an HA Member, before purchasing the resource below please click to create a free account in a new window. Return to this tab when you're set – you may need to refresh this page.
Alternatively you can become a Member using the Join button below (this will not open in a new window, so you'll need to bookmark this page).
Unit 1. Introduction
1.1 Introduction to the course
Unit 2: The role of the Subject Leader
Unit 2: The role of the Subject Leader
2.1 Key responsibilities as a Subject Leader for History
2.2 Culture and Climate in the History Department
2.3 Your tools for growing and cultivating your department
2.4 Sources of support
Unit 3: Strategic Planning
Unit 3: Strategic Planning
3.1 Evaluating what you already have
3.2 Time management
3.3 Curricular vision
3.4 Leading and managing change
Unit 4: Curriculum Leadership Part 1: KS3
Unit 4: Curriculum Leadership Part 1: KS3
4.1 KS3 curriculum decision-making
4.2 Implementing KS3 improvements
4.3 Managing staff and process over time
4.4 Monitoring and evaluating implementation
4.5 Building the profile of History
Unit 5: Curriculum Leadership Part 2: KS4
Unit 5: Curriculum Leadership Part 2: KS4
5.1 Choosing and changing specifications
5.2 Long term planning and course organisation
5.3 The relationship between specifications and textbooks
5.4 Sensible approaches to exam preparation
5.5 Improving uptake for exam courses
Unit 6: Curriculum Leadership Part 3: KS5
Unit 6: Curriculum Leadership Part 3: Key Stage 5
6.1 Choosing and changing specifications
6.2 Managing the NEA
6.3 Sensible approaches to exam preparation
6.4 Recruitment at KS5: building the reputation of the course
Unit 7: Improving Teaching Part 1: Developing your team
Unit 7: Improving Teaching Part 1: Developing your team
7.1 Improving teaching and developing your team
7.2 Fostering a culture of improvement
7.3 Creating the conditions for teacher growth
7.4 Hiring new team members
7.5 Supporting Early Career Teachers
Unit 8: Improving Teaching Part 2: Leading a CPD programme
Unit 8: Improving Teaching Part 2: Leading a CPD programme
8.1 Principles for growing great teachers
8.2 How to design a CPD programme and individual session
8.3 Improving departmental subject knowledge
8.4 Constructing a CPD programme: example I
8.5 Constructing a CPD programme: example II
Unit 9: Improving Teaching Part 3: Responding to data
Unit 9: Improving Teaching Part 3: Responding to data
9.1 Demystifying the exam marking process
9.2 What can we meaningfully learn from data analysis?
9.3 Responding to mid-year data
9.4 Responding to end of year data, Hugh Richards
Unit 10: Improving Teaching Part 4: Performance Management
Unit 10: Improving Teaching Part 4: Performance Management
10.1 Good targets for History teachers and other PM advice
10.2 Making Performance Management and Departmental Reviews Developmental
10.3 Mentoring and Coaching
Unit 11: Working with SLT
Unit 11: Working with SLT
11.1 What do you need from SLT and what do SLT need from you?
11.2 Working within school constraints and carving out space for good history
11.3 Making line management meetings productive
11.4 Interview with a non-History headteacher
11.5 Insights from SLT with a History background, Rich Kennett and Catherine Priggs
Unit 12: Preparing for Ofsted
Unit 12: Preparing for Ofsted
12.1 Interview with Tim Jenner, Subject Lead for History, Ofsted
12.2 Reflections on a 2019 inspection under the new framework
12.3 Reflections and advice to subject leaders on the new Ofsted Framework
12.4 Paper: Reflections on SLDP Interview with Tim Jenner
Unit 13: Soapboxes and Fireside Chats
Unit 13: Soapboxes and Fireside Chats
Soap box: school history trips
Fireside chat: the importance of embracing failure
Overcoming the loneliness of leadership