Diverse history curriculum webinars
HA webinar series in partnership with Justice to History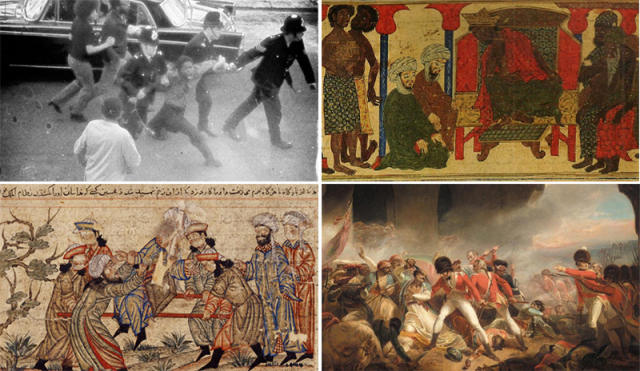 Diverse histories in the secondary curriculum in the 2020s: new ideas and resources for transforming students' knowledge and historical thinking
We are pleased to announce a new series of webinars in partnership with Justice to History aimed at teachers working with Key Stages 3 and 4. Making school history relevant as well as rigorous is our priority and school leaders will want their history department to be at the cutting edge of work that is developing the subject in innovative ways. It is recognised that diversity in history should not be slotted into a traditional curriculum in a monthly festival, but strongly embedded throughout a school's framework and this course will help you to do that.
In the autumn term, the series of four webinars will each explore a key theme, including a case-study of one historical enquiry that exemplifies the general ideas and principles applicable to the theme. The four themes covered will be:
For further information please download the outline programme below.
What will you get out of this course?
Clarity of purpose in developing richer authentic diverse history curricula in your school.
Command of the key ideas that can shape your diverse curriculum programme and its enquiries.
Confidence to use models of good practice as the basis for your own specific curriculum development.
Why should I want to do this with Justice to History?
Abdul and Robin have been developing historical enquiries on diverse histories for ten years and have spoken on their work around the world, from the USA to South Africa and at many HA events. They have recently led the HA's Teacher Fellowship programme on Britain and Transatlantic Slavery, as well as work on the Migration, Empires and People GCSE course.
Booking options and costs
Each individual webinar is available to book online via Eventbrite. If you wish to make a block booking of all four webinars, please download and complete the booking form below to book and request an invoice.
| | | |
| --- | --- | --- |
| Number of webinars booked | HA Member | Non-member |
| 1 webinar | £10 | £15 |
| 4 webinars | £35 | £55 |
We recognise the importance of this subject area and the Historical Association is subsidising the cost of this series to make it easier for teachers to participate.
Please note that all paid webinars are subject to VAT and all webinars are subject to the HA CPD terms and conditions. For enquiries please contact events@history.org.uk.
Links: