Funded CPD on Medieval History: Conquest Histories and Remembrance: Still Going Ahead
The Search for Parity – a research project funded by the AHRC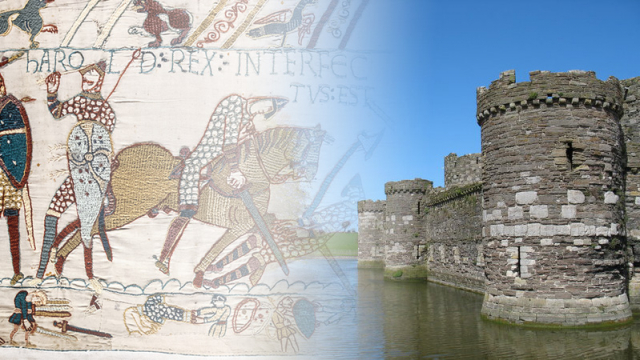 Teaching the human side of medieval history through writing and imagination
Covid-19 Update
At present, the residential element of this funded CPD will still go ahead as planned. However, we are carefully monitoring the situation and will review according to government advice. If it is not possible to hold the residential element in July, this will be replaced by a one day online video-conference session in July, followed by an interim development day in late autumn. Given the current situation, we have also extended the application deadline to Friday 24 April to allow teachers more time to apply.
This fully funded two day seminar is for teachers with an interest in the medieval period, conquest and/or the history of warfare. Led by Emily A. Winkler (Oxford) and Owain Wyn Jones (Bangor), the seminar will provide teachers with an opportunity to learn about new and recent research on the medieval period—in particular on concord, commemoration and compassion in medieval histories— in order to develop resources for wider schools use. The residential seminar will be held at St Edmund Hall, University of Oxford from 17-18 July 2020.
The Search for Parity – a research project funded by the AHRC

How did attitudes towards conquest in Britain—from the imagined histories of the Britons in the remote past to the Norman Conquest in the recent past—change after 1066? Did writers of history try to explain or reimagine the past? The Search for Parity project is interested in how medieval chroniclers' stories offer insights into medieval perceptions of concord, commemoration, and compassion, even in narratives that tell stories of conquest. Our goal is to break down 'national' boundaries (e.g. 'English' and 'Welsh' history) that give an artificial picture about how interactions between peoples in medieval Britain actually worked.
The CPD Residential Seminar and resource programme
The seminar will bring teachers and academics together to explore medieval perceptions of conflict and cooperation and bring to light the human side of medieval history for schools. By working collaboratively with academic historians throughout the programme, teachers will benefit from fresh insights into the period for the resources that they produce. It is also hoped that approaches will be found to encourage students to read medieval sources independently, question assumptions about national identity and conquest, and understand how medieval people thought and felt about diplomacy and warfare in Britain.
Sessions at the residential will include (among others): an introduction to the new research; discussions about the challenges of studying medieval chronicles in schools; and intensive case studies of chronicles and themes in context to serve as idea-springboards for curricular design.
This CPD might be of particular interest (though not a requirement) for those currently teaching or planning to teach:
The Norman Conquest at Key Stage 3 and/or at GCSE
The Experience of Warfare at A-Level
Warfare Through Time at GCSE
Medieval Welsh history
All teachers who participate in the programme and attend the seminar are expected to do follow-up work in collaboration with academic historians to design and edit related educational resources (e.g. a lesson plan or set of lesson plans).
This is a fantastic opportunity for teachers who are looking to redress misconceptions about the Middle Ages and are prepared to develop activities and resources for their peers to help teach the Middle Ages and the human history of warfare and diplomacy.
How do I apply?
Applications are open to all UK-based teachers currently teaching in the secondary education sector. To be accepted onto the programme, you must be able to attend the seminar in Oxford in July 2020.
To apply, please complete and return the application form (downloadable below) along with a 1-page CV and a 1-page letter of application. In the letter of application, please make sure to include:
Why you want to participate in the seminar, what you and your school/organisation hope to gain from your involvement, and your background in (or plans for) curriculum design.
What you think are the two or three key challenges in teaching medieval history and/or the history of warfare in the secondary school classroom.
What kinds of lesson plans or resources you would like to be able to develop from the workshop.
Applications will be accepted from January 2020 until the closing date of Friday April 24. For informal enquiries, please contact Emily Winkler or HA Education Manager Mel Jones.