The Great Debate 2018
"Was the 1918 extension of the franchise the most significant moment in British democratic history?"
Published: 14th March 2018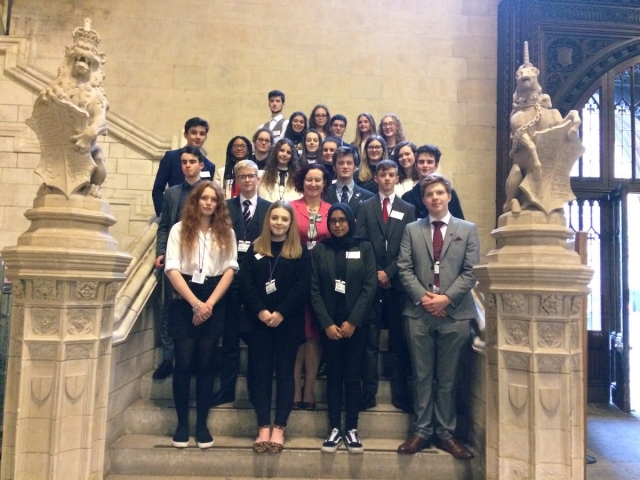 On 10 March 2018 sixth-form students from across the country gathered in the Palace of Westminster. They were the 23 winners of regional heats for the 2018 Great Debate. To get to the final they had presented an argument on the question:
Was the 1918 extension of the franchise the most significant moment in British democratic history?
They now had to present the same argument to a room of their peers, family and teachers, not to mention three prestigious judges. The judges were:
Michael Maddison, Deputy President, Historical Association
Philippa Helme, Principal Clerk of the Table Office, House of Commons
Emma Peplow, Assistant Director, History of Parliament Trust
The HA partners for this year's event, Vote 100, had secured the use of a room at Westminster, the Grand Committee Room. The Grand Committee Room is grand and prestigious and if the students were not already in awe of that, then the fact that they had to pass through Westminster Hall – the original debating chamber of the Houses of Parliament and a room where many a British law has been made and unmade – may have made them totally overwhelmed. Yet it did not!
That Saturday the audience in the Grand Committee Room were presented with 23 powerfully and passionately delivered arguments in response to the significance of the 1918 Act. Each of the finalists' presentations was well-rehearsed, well-constructed, and showed an impressive level of research. Arguments varied incredibly, some stretching back to the Magna Carta and others as far forward as the Beveridge Report and current events in Iran.
The range of knowledge and depth of understanding to their themes was inspirational. Everyone in that room stopped being in awe of the building and was in awe of the speakers.
In the end the three judges had the terrifying job of deliberating and evaluating the presentations and arguments to select a winner and two runners up. Nobody wanted their job!
In the end the winners were:
Winner: Rosanna Elliott, Bromley High School (South London heat)
First runner-up: Francesca Miller, Brighton College (Chichester heat)
Second runner-up: Georgia Marker, Woodhouse Grove School (Bradford heat)
Overall it should be said that all 23 were excellent. All would do well to consider returning to Parliament one day for the elected jobs that go on there.
The finalists' speeches will shortly be available to view on the HA website - watch this space!
Thank you to the judges, to our partners Vote100 and to our sponsors Hodder Education.