Webinar series: Diverse histories in the secondary curriculum in the 2020s
New ideas and resources for transforming students' knowledge and historical thinking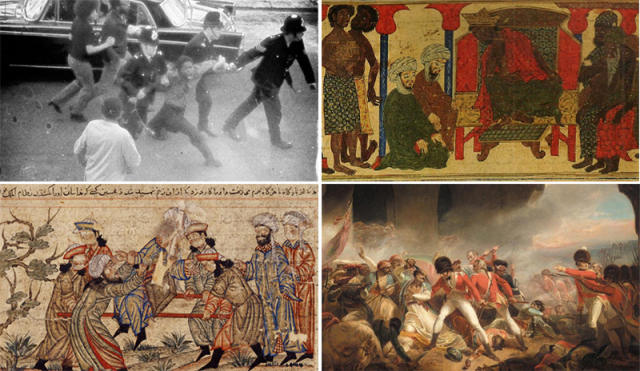 We are pleased to present teachers with another opportunity to view this series of webinars in partnership with Justice to History aimed at teachers working with Key Stages 3 and 4. Making school history relevant as well as rigorous is our priority and school leaders will want their history department to be at the cutting edge of work that is developing the subject in innovative ways. It is recognised that diversity in history should not be slotted into a traditional curriculum in a monthly festival, but strongly embedded throughout a school's framework; this series will help you to do that.
Programme
Each webinar in the series will explore a key theme, including a case-study of one historical enquiry that exemplifies the general ideas and principles applicable to the theme. Most webinars in the series will be available as an on-demand recording, except for the webinar on Islamic history in secondary schools which will be presented live on 24 November and will feature a new enquiry from Justice to History.
| | |
| --- | --- |
| Title | Release type |
| Introductory webinar: Diversifying or decolonising?* (see below) | On demand |
| | On demand |
| | On demand |
| 24 November 2021: Islamic history in secondary schools (Read more) | Live and recorded |
| | On demand |
What will you get out of this course?
Clarity of purpose in developing authentic rigorous history curricula in your school.
Command of the key ideas that can shape a more diverse curriculum programme and its enquiries.
Confidence to use models of good practice as the basis for your own specific curriculum development.
Why should I want to do this with Justice to History?
Abdul Mohamud and Robin Whitburn have been developing historical enquiries on diverse histories for over ten years and have spoken on their work around the world, from the USA to South Africa and at many HA events. They led the HA Teacher Fellowship programme on Britain and Transatlantic Slavery as well as work on the Migration, Empires and People AQA GCSE course.
How to book
We recognise the importance of this subject area and the HA is subsidising the cost of this series to make it easier for teachers to participate. The introductory webinar marked with an asterisk (*) above, will be available free to HA members and each other webinar in the series will cost £10 for members. Non-members can access each webinar for £15. Bulk booking for all webinars in the series is now available for £37 for members and £58 for non-members (including VAT).
On-demand webinars
The introductory webinar will be available for members to view on this page from 1 September 2021 until the end of December 2021. All other on-demand webinars are available to purchase and view online using the links provided above until the end of December 2021 and come with a recommended viewing order. VAT is not charged on the on-demand webinars.
Live webinar
We are required to charge VAT on the live webinar. If you book for this webinar as a one-off, rather than part of a bulk booking, it will be subject to Eventbrite fees: the total cost including all fees and taxes will be £13.37 for HA members and £19.76 for non-members. This webinar is also eligible for the corporate member free recording offer. Please see the terms and conditions for information on how to redeem this.
All Historical Association webinars are subject to the HA CPD terms and conditions. For enquiries please contact events@history.org.uk.
Diversifying or decolonising: what should we be doing with the history curriculum in the 2020s?
This introductory webinar to the series explores four key elements. It will be available for members to view from 1 September 2021 until the end of the autumn term.
Decolonising or Diversifying: unravelling these concepts and considering how teachers could make a critical difference in 'doing justice to history' by transforming the choices made in building our school curriculum.
Selecting the history: exploring the historical topic of racial injustice from the range of Justice to History enquiries, showing how the choices of material were shaped by the 'ethic of the enquiry'.
Pedagogy: considering how our pedagogical approaches are vital in ensuring that a curriculum centred on values of social justice and equity can steer away from indoctrination and allow students to think for themselves.
The enquiry: a brief guide to the enquiry itself, with some of the key people and sources that were included.