The Young Quills Shortlist 2022
Published: 5th May 2022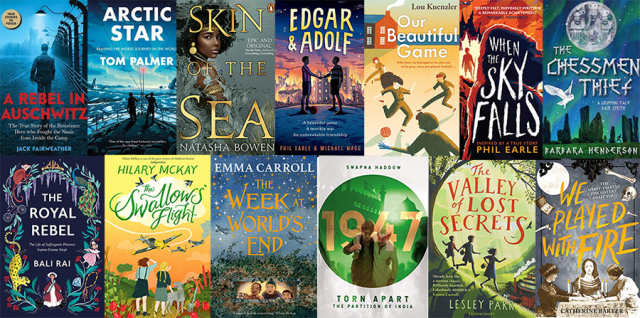 The Historical Association is excited to announce the shortlist for the Young Quills, the annual awards for children's and young adult historical fiction.
5-9 years

The Chessmen Thief, by Barbara Henderson, Pokey Hat
Edgar and Adolf, by Phil Earle and Michael Wagg, OUP Oxford
The Royal Rebel, by Bali Rai, Barrington Stoke
The Valley of Lost Secrets, by Leslie Parr, Bloomsbury Children's Books
10-13 years
The Swallows' Flight, by Hilary McKay, Macmillan Children's Books
Torn Apart: The Partition of India, by Swapna Haddow, Scholastic
When the Sky Falls, by Phil Earle, Andersen Press
The Week at World's End, by Emma Carroll, Faber & Faber
Arctic Star, by Tom Palmer, Barrington Stoke
Our Beautiful Game, by Lou Kuenzler, Faber & Faber
14+
We Played with Fire, by Catherine Barter, Andersen Press
A Rebel in Auschwitz, by Jack Fairweather, Scholastic
Skin of the Sea, by Natasha Bowen, Penguin
The Young Quills books for each year must be published for the first time in English in the year preceding the competition – so 2021 for this year's selection. Divided by age suitability the books are given to schools on the condition that the children and young people there write a review of the book following our criteria. Those reviews are used as the basis for us to create a shortlist from which the winners are selected. Read some of the reviews of this year's books here.
The winner will be announced on 7 July 2022.