Dig School: free online archaeology workshops
Free, fun online archaeology workshops to inspire children
Published: 24th April 2020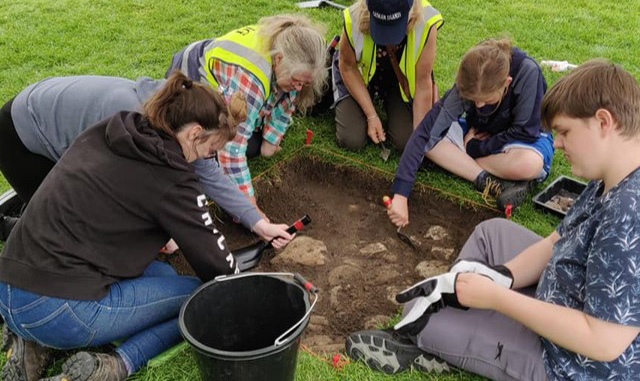 Free online workshops for teachers and home-schooling families
Dig School offers up free online archaeology workshops for teachers and home-schooling families
A series of free, fun online archaeology-themed workshops is being launched to help teachers and home-schooling families inspire children to explore history from their laptops and tablets.
Visit the Dig School website here
Launching 24 April 2020, Dig School will offer secondary school age pupils the chance to develop new skills, knowledge and interests through a series of 20 cross-curricular online enquiries this summer term.
The project is devised by Professor Carenza Lewis, well-known from TV's iconic archaeology series Time Team and now Professor for Public Engagement at the University of Lincoln, UK, and has been developed in collaboration with the Council for British Archaeology.
Dig School is funded through Historic England's award-winning Heritage Schools programme, and is provided free of charge in summer term 2020 to help schools and families cope with the disruptions of the COVID-19 pandemic.
Professor Carenza Lewis said: "Dig School is a new online programme of lively educational workshops themed around archaeology. It's about learning how to use evidence to answer questions. Enquiries include Stone Age life and a medieval murder, with evidence including artefacts, bones and scientific data.
"Week by week, students can enjoy developing new ideas, interests, knowledge, and transferrable skills for life and learning, leading up to real excavations. We hope it will help pupils and teachers at this difficult time."
The online materials include videos and interactive activities in the shape of challenges, enquiries, puzzles, games and investigations.
Teachers or parents, who will not need any prior subject knowledge, will be able to deliver the workshops by showing a digital presentation by Professor Lewis along with worksheets for students and teacher's guidance notes.
There will be live online support from the Dig School team on the day each new workshop is released with the materials remaining available for download at any time afterwards.
Each workshop can be enjoyed independently as learning from one session is not essential to the next, and they can be followed in any order, but the programme works particularly effectively as a series which cumulatively builds up knowledge, skills and confidence. Assessment tools and certificates are also provided for schools to evaluate and recognise students' learning if they wish.
The programme has been designed for students aged ten to 15 years and of all interests and abilities but should be suitable for students in other age groups too.
Katharine Burn, Vice-President of the Historical Association, said: "It is great news for all those currently looking for ways to develop young people's engagement with the past that the Dig School resources are now being made available online.
"The flexibility of the programme is obviously invaluable at this moment, but it is also hugely reassuring for educators (at home and in school) to know that careful thought has also been invested in finding effective ways to build young people's knowledge, understanding and skills cumulatively through the structured enquiry process that underpins the whole collection."
The first instalment of Dig School was released on Thursday 23 April 2020, with organisers offering live online support for teachers and home-schoolers from 12-2pm on Friday.
To find out more, register for updates, and download materials, visit the Dig School website via the link below:
Links: