Great Debate Final 2017 - Report
"How did the First World War affect me and my community?"
Paula Kitching, published 16th March 2017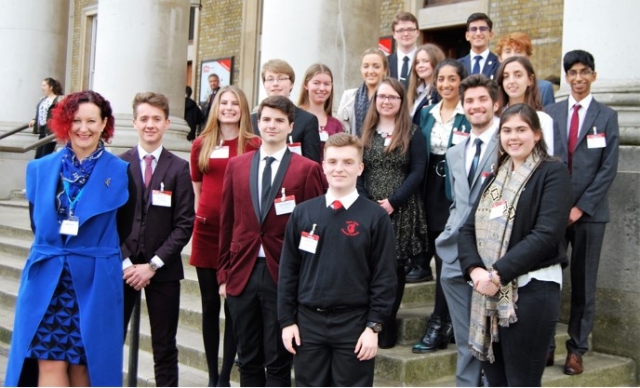 We have a winner!
The much anticipated final of this year's Great Debate was held on 11 March at the Imperial War Museum in London. After twenty fascinating talks and much deliberation from the judges, lead judge Professor David Stevenson announced that Hannah Boyle from Benton Park School in Leeds is this year's winner of the Great Debate. Hannah spoke eloquently about medical developments from the Thomas Splint to CBT with a well-researched and thoughtful argument.
The two runners-up were Amy Brookes from Barr Beacon School in Walsall and Sophia Arora from Withington Girls' School in Manchester. A further four students were highly commended: Cai Fôn Davies from Ysgol Tryfan, Evelyn Dunne from Scoil Phobail Bhéara, Bella Priestman-Bennett from Sandringham School and Emily Hall from Bishop Luffa School.
The question that the students addressed was "How did the First World War affect me and my community?" and that provided twenty very different five-minute talks, with each a differing emphasis and conclusion. The issue of community inspired ideas of local history, age groups, ethnicity, ideals and gender.
Each of the twenty finalists had won their regional heats, so it was perhaps no surprise that they all performed excellently. The variety of talks was inspiring to all those listening, with little-known facts and ideas being announced by each speaker.
The overall standard was really quite impressive, making the job for the judges challenging to say the least. There are clear guidelines on the judging criteria and that was very important with such strong finalists across the whole day. In the end it came down to who had answered the question the most successfully and identified their arguments and presented their conclusions coherently and within time.
"It was tremendous, it was exciting, it was great to be a part of it. It was hard work as they were all so good – I never want to do it again" said one judge – who happens to be me! And I mean that... well, until the heats start again later this year for the next Great Debate. Watch this space...
Anyone who thinks that young people don't understand the past or don't see the value of history should go to a Great Debate heat or watch one of the filmed speeches – they will certainly think again. Young people do know their history and quite evidently they are excited by it – and what it can and does mean to them.
Well done to everyone who took part!
You can view the finalists' speeches on our website here and photos from the event on our Facebook page here.