Welcome a new branch of the HA - City of Lincoln
Published: 20th February 2014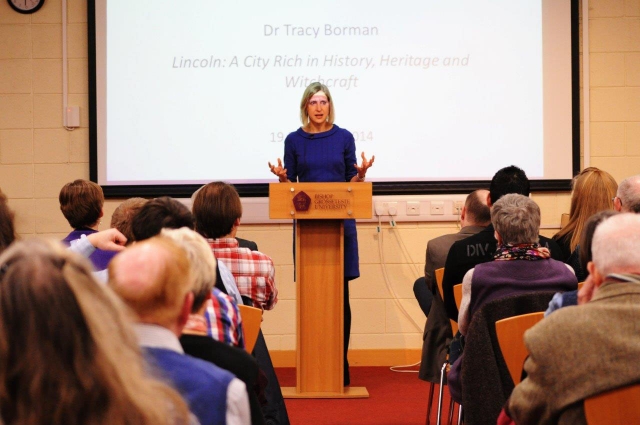 Television and the internet have not stopped people from leaving their homes and going out to listen to historians and historical experts - certainly not in Lincoln.
A new branch of the Historical Association had its inaugural lecture on the 19th February 2014 at the Bishop Grosseteste University.
Actually it could be said that it was not new just the same Lincoln branch that opened in 1928 until after the Second World War was on sabbatical.
The first lecture was by Dr Tracy Borman - a Lincolnshire woman and former pupil at the William Farr School in Welton and Lincoln Castle Academy. Now Tracy is Joint Chief Curator of Historic Royal Palaces based in London. She told the story of three woman who were found guilty of witchcraft and hanged outside Lincoln Castle in 1619.
Dr Borman, said: "Lincoln is such a historic city - with its roots in the iron age and the most fantastic cathedral.
"Being from Lincolnshire, it was really lovely to be asked to open this branch.
"The great thing about the Historic Association is that it is open to anyone, from students and teachers to the interested observer who just wants to find out more."
The branch is part of the university's plan to attract more historians to Lincoln with the branch opening coinciding with the introduction of its single honours history degree, which will be open to students starting in September 2014.
The City of Lincoln branch programme is online.
John Haymond from Edinburgh University will give the branch's next lecture, 'Tragedy enough to go around: Justice, revenge, and the US-Dakota War of 1862', on March 24 at 6pm.
Good luck with it all and for people living locally remember that there is also a Lincolnshire branch as well, people of that county are spoilt for choice for their live historical information.
For more information about the Historical Association and forthcoming City of Lincoln branch lectures at Bishop Grosseteste University please contact the Branch Secretary Dr Claire Hubbard-Hall (claire.hubbard-hall@bishopg.ac.uk) on 01522 583736