Your HA Virtual Branch
Keep learning with our online programme of talks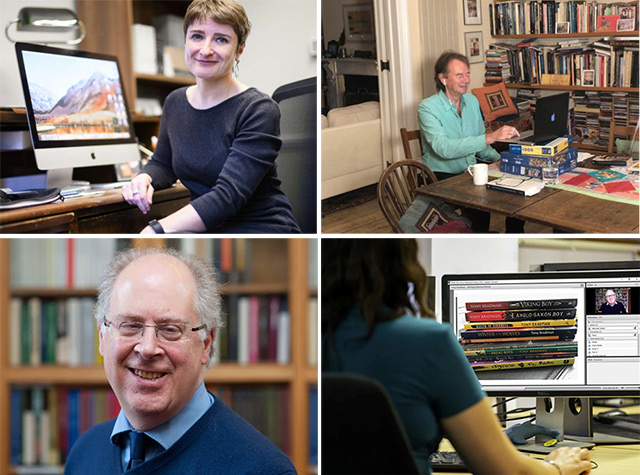 Your branch from home
The HA Virtual Branch is a great way to keep your history up-to-date, whether you are working or relaxing, all from the comfort of your home. The Virtual Branch is free and open to everybody, and recordings of the talks are made available online after the event for HA members.
Did you know? As well as accessing session recordings, members can attend talks held by HA local branches for free, plus exclusive members' webinars and short courses, and a variety of other benefits. Find out more.
Upcoming talks
*LIVE - Tuesday 12 December, 7.30pm
The British Templars: From Crusaders to Conspiracies
Steve Tibble
Book here
The word Templars conjures up a variety of images and ideas – much of which are fiction rather than fact. In this talk Dr Steve Tibble will unpick some of the stories surrounding this group and place them in a proper historical and factual context. He will explore why the history of this group of men has led to some of the more outlandish tales that now follow them as well as how many of the stories have some basis in actual events. Read more

*LIVE - Tuesday 16 January, 7.30pm
King Henry III and Simon de Montfort: Reform, Rebellion and Civil War in England 1258-1265
Professor David Carpenter
Book here
Professor David Carpenter is a Professor of Medieval History at King's College London. His biography of Henry III came out in the Yale English Monarchs Series in two volumes: Henry III 1207-1258: The Rise to Power and Personal Rule (2020) and Henry III 1258-1272: Reform, Rebellion, Civil War and Settlement (2023). Previously he had written The Struggle for Mastery: Britain 1066-1284 in the New Penguin History of Britain and Magna Carta: A New Commentary in the Penguin Classics Series, the latter published to coincide with the Charter's 800th Anniversary in 2015.

*LIVE - Tuesday 27 February, 7.30pm
The East India Company and Empire: Foundations and Memory
Dr Mark Williams
Book here
Mark Williams is Reader in Early Modern History at Cardiff University. He has published widely on a range of topics including early modern exiles and refugees, the English and Dutch East India Companies, and the early history of the British Empire. He is currently working on a cultural history of the English East India Company from 1600-1757.

*LIVE - Wednesday 27 March, 7.30pm
The House of Dudley
Dr Joanne Paul
Book here
The Dudleys thrived at the court of Henry VII, but were sacrificed to the popularity of Henry VIII. Rising to prominence in the reign of Edward VI, the Dudleys lost it all by advancing Jane Grey to the throne over Mary I. That was until the reign of Elizabeth I, when the family were once again at the centre of power, and would do anything to remain there... Read more

*LIVE - Wednesday 24 April, 7.30pm
From Pirates to Princes: the Normans in Eleventh-Century Europe
Professor Judith Green
Book here
Normandy originated in from a grant of land to Rollo, a Viking leader, in the early tenth century. By the end of that century Normans were to be found in southern Italy, then in Britain and, at the end of the eleventh century, in the near East on the First Crusade. How are their successes - 'the stormin' Normans' - best explained, as excellence in war, great leadership, or just good luck? This talk looks at both causes and consequences of their rise to power and moves on to discuss how fresh approaches through archaeology and material culture are transforming the field. Read more
Past lecture recordings
If you've missed any of our previous Virtual Branch talks, HA members can access recordings below. Not already a member? Join today
Local HA Branches
The HA has over 45 local branches around the country. Some of these have been able to return to their venues for their monthly talks. Others have decided to make their branch programmes online via Zoom – this provides a wonderful opportunity for you to see some of the great lectures that occur across the country as part of the HA. Check our branch calendar for full listings.
If you're a teacher don't forget that we also run our regular calendar of CPD events - view the secondary webinar calendar here and the primary calendar here.
Other events coming up
View out full Historian events calendar