Swansea Branch's First Fellow: Dr Fred Cowley
Published: 9th September 2014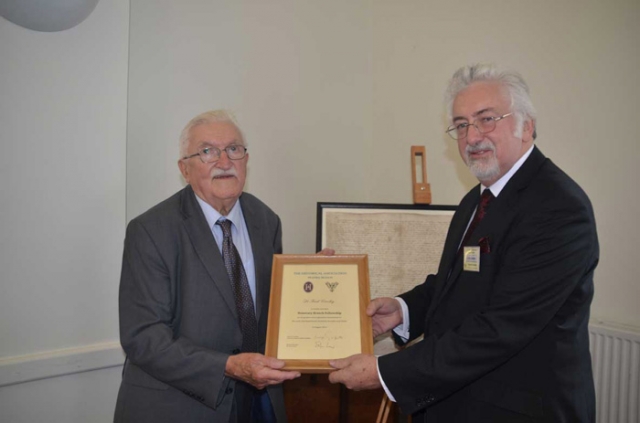 At Sketty Hall, Swansea, on Wednesday 13 August 2014, the Swansea branch of the Historical Association granted its first Honorary Branch Fellowship to Dr Fred Cowley in recognition of his significant contribution to the study, appreciation and promotion of history in south-west Wales.
Dr Cowley lives in the West Cross district of Swansea and is a graduate of the University College of Wales, Swansea. After graduation, he became Sub-Librarian (Readers' Services) at the university, and pursued research into the monastic history of south Wales. He has published, both before and after his retirement, a number of articles on the ecclesiastical history of this region. He is the author of The Monastic Order in South Wales 1066-1349, which was first published in 1977 and is still the definitive work on the subject.
At the event, attended by branch members and friends, Emeritus Professor Ralph Griffiths FHA, president of the branch, spoke highly of Dr Cowley's academic career and his success as an historical author. Branch chairman Dr John Law endorsed those remarks as he presented Dr Cowley with a framed reproduction of a medieval charter to Margam Abbey; and branch executive secretary Colin James presented the certificate of fellowship.