Local History Month 2019
1–31 May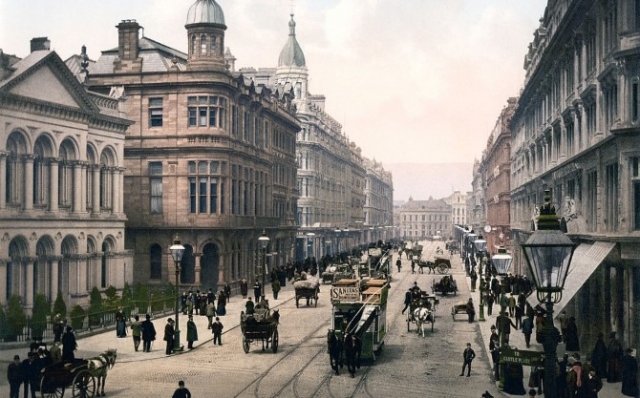 May is Local History Month
May is Local History Month, a time to celebrate the stories and heritage of the past that is all around us. So much of history is often discussed through big events and on a national scale – kings, queens and prime ministers – which can often make it seem distant and 'not relevant' when the reality is that historical evidence is all around us.
The UK is rich with history from Neolithic sites and stone circles to 20th-century war memorials and 21st-century architecture. The streets we live in have stories to tell if we want to hear them. Finding out those stories are local historians, community history groups, local museums and archives.
Local history and civil rights
Often local history and the stories are hidden in plain sight – the plaque on a building that you always walk past or the street name that implies a trade that is now forgotten. Sometimes that history is in the very manner that we are now able to live our lives and carry out our daily toing and froing such as the civil rights we have come to expect and even, on occasion, neglect.
Civil rights include the right to take part in the democratic process without fear of imprisonment and being able to vote in national and local elections. Throughout the 19th century and into the 20th century the demand for greater access to the franchise and to a say in what was happening in government was felt across the country. The people's march that turned into the tragedy of Peterloo was 200 years ago this year in Manchester and stoked the desire for a revolution in how all of society was treated.
Suffragist organisations were established in small and large communities throughout the country. Leading the way for the demand for equal rights were women, and they were supported by many men, some of whom were also denied access to the franchise at this time. Over the coming decades these women and men would collect petitions, challenge political parties and campaign tirelessly for access to the vote – which many believed would lead to a better, fairer society for all.
Some of these women became household names, especially those who formed part of the more radical suffragette societies. However, many more simply blended back into the background after the Representation of the People Act 1918 and then its extension the Equal Franchise Act in 1928 in the belief that their work was done.
Celebrating local heroes
For Local History Month 2019 we would like to celebrate these women and men and help others to find out about their own local suffragist heroes. We have created a database of 3,000 individuals from many different backgrounds and communities in the UK that can be accessed freely at www.suffrageresources.org.uk/database. The database allows anyone in the UK to find out about the people in their area that signed the 1866 petition or who were arrested, or involved with the suffrage campaign in other ways.
The database is part of larger resource for schools and educators to learn about suffragists and their campaigns all of which is available free. Included are podcasts and case studies – these additional resources require registration on the site but are still available for free. This is an incredible resource that will help anyone trying to find out about some of the people who lived in their local area and what they did while contributing to the heritage that is this country.
HA is currently running a Suffrage Poster Competition for KS3 students. They must make use of the HA suffrage database plus additional research to represent the story of an individual person or group from your region as an inspiration for today. The winning poster will be published by the HA and used as part of the suffragist materials and promotions.
To celebrate Local History Month we're also making two recent articles on using local history from Primary History and Teaching History free-access for the month – follow the links at the bottom of this page.
So this Local History Month – read the plaque on the building, visit your local heritage centre, and join with us in celebrating the women and men that lived in your communities and campaigned to give us the rights we have today.
'Real Lives'
To celebrate this country's rich and diverse local history we are introducing a new feature into The Historian entitled 'Real Lives'. The aim of the feature is to include stories of people from around or connected to the UK that provide an insight in the world gone by. The people do not need to be well known but they do need to have a story that might interest, surprise or inform our readers. If you are interested in writing a small piece (300–1,000 words) for our Real Lives feature please get in touch with: martin.hoare@history.org.uk