Young Quills Shortlist 2017
Paula Kitching, published 12th May 2017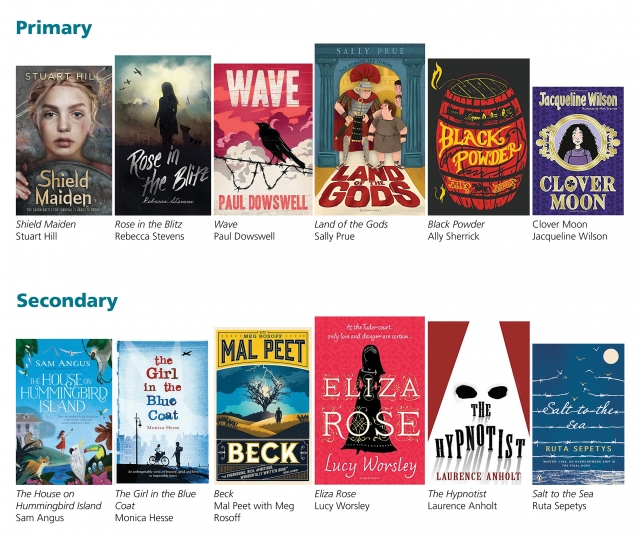 It's the shortlist! – The Young Quills 2017
Young people from all over the UK have spent the last few months with their noses in a good book. They have been reading the latest historical fiction and giving their feedback. Yes it's been the Young Quills competition time.
The Young Quills is a historical literature competition that allows any new books of historical fiction published in the previous year to be sent to schools to be reviewed*by children. The schools report to the HA the books that the pupils have selected as their favourites to create the shortlist.
There are two fixed categories for the Young Quills - primary and secondary and then depending on the nominations a free category if one or more books span the two categories or have created a special group of their own. Listed below are the shortlisted books for this year along with comments from the child reviewers.
Over the next few weeks a judging panel from the Historical Association led by guest author judges will decide on the winners. This year's guest judges are previous Young Quills winners Hilary Robinson and Martin Impey.
If one of the nominated books didn't make the shortlist don't worry – none of the books received terrible reviews and all of them will continue to delight young readers for many years to come.
The winners will be announced 15 June 2017.
Primary shortlist
Shield Maiden, by Stuart Hill (Bloomsbury Education)
Rose in the Blitz, by Rebecca Stevens (Chicken House books)
Wave, by Paul Dowswell (Barrington Stoke Ltd)
Land of the Gods, by Sally Prue (Bloomsbury Education)
Black Powder, by Ally Sherrick (Chicken House books)
Secondary shortlist
The House on Hummingbird Island, by Sam Angus (Macmillan Children's Book)
The Girl in the Blue Coat, by Monica Hesse (Little, Brown Books for Young Readers)
Beck, by Mal Peet with Meg Rosoff (Walker Books)
Eliza Rose, by Lucy Worsley (Bloomsbury Childrens)
The Hypnotist, by Laurence Anholt (Corgi Childrens)
Salt to the Sea, by Ruta Sepetys (Philomel Books)
Clover Moon, by Jacqueline Wilson (Doubleday Childrens)
Primary Reviews
Black Powder
"I love how the author included the history of The Gunpowder Plot in this book too, it was a pleasurable and interesting way to learn about history – it has definitely intrigued me to keep learning about history"
Rose in the Blitz
"This story is really good, really well written. I enjoyed finding out about life during World War 2, particularly about being nervous in a bomb shelter."
"I learnt a lot about WW2 from this book and it made me think about what was life during that time."
Shield maiden
"I rate this story (Shield Maiden) 4 out of 5 stars because it made history more fun and real!"
Land of the Gods
"I enjoyed my book very much because I liked learning about having a Roman life. It is also because I enjoy History more than any subject."
Wave
"This book is an extremely good read; perfect for all juniors. Do you like historical novels? If so, this is a book for you! You'll get tons of interesting facts from the short story."
"In my opinion, the book was a rather interesting, yet short, story that brings up some very important factors about war in general. It has great detail and description; however, not all were pleasant to listen to, for they gave an image too gruesome."
Secondary Reviews
Eliza Rose
"Eliza Rose is an extremely good book. It has lots of good description and good historical language"
"I really enjoyed reading about the Tudor period and this book made me want to read more books set in the Tudor times"
The House on Hummingbird Island
"This book I would rate 5 stars because of its intricate plot and detail. People aged between 9-14 will enjoy it the most, is my opinion. Overall it is a wonderful book so get the book and flourish in your knowledge!"
"It is beautifully written, with a rich vocabulary to match the colour and vibrancy of the Caribbean island' 'It's an imaginative book that I would love other people to read too."
The Hypnotist
"This extraordinary moving novel The Hypnotist is such a compelling read"
"This book made want to find out more about what life was like for black people in the 1950s and 1960s in America. The author builds tension in the book, which makes you want to read the next chapter. The writing is very descriptive and it makes you imagine being there. I would want to read more books by Laurence Anholt. This book has brought a part of American history to life for me. I would recommend this book to anyone who loves an adventure."
The Girl in the Blue Coat
"The book has made me want to find out more about the experience in Europe during the Second World War."
"I really enjoyed reading this book and found it emotionally gripping."
"The Girl in the Blue Coat is undoubtedly one of the best fictional account of life during World War II that I have read. It is an emotional story, where its characters face impossible choices, tragedy and are drawn into a web of mystery, lies and unspeakable danger."
Salt to the Sea
"Salt to the Sea is such an enjoyable book as it is an extremely powerful and well written book exploring the tragedies of World War II."
"I think the author did a great job in making the reader feel as though they were going through WW2 and feel sympathy towards everyone who had to try escape from all the fighting. This book has definitely made me want to find out more about WW2 and all of the events that happened and how people coped."
Clover Moon
"I absolutely enjoyed reading this book. It is full of drama and intensity"
"This book is realistic as it shows the horrors in Victorian society, disease and infection as well as explores the discrimination against women, particularly with work as they had no other choice but to live in workhouses."
Beck
"Beck is an amazing book and a heart-breaking story. I thoroughly enjoyed reading through the book and the way that Mal Peet wrote the story made me feel as if I were there, and I could visualize everything clearly."
To see the whole list of nominated books for 2017
*The books are provided to the Historical Association by the publishers and the HA distributes them amongst the registered schools. Please contact the HA is you would like a book to be included or to be a registered shortlisting school.