Standing together in silence for Remembrance
Published: 30th October 2020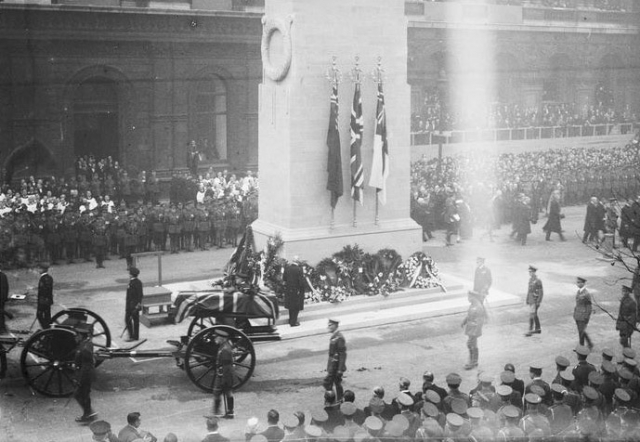 One hundred years ago the UK was preparing for only its second Armistice Day, the war still very fresh in many people's minds. The area around Westminster Abbey in London was preparing for the arrival of 'The Unknown Warrior' – the dead body of a British soldier selected at random from the battlefields of the Western Front. This gesture was an important step in the healing process for a nation that felt it had given many of its youngest, ablest and best to a conflict that had not delivered global security or any spoils to the victor.
In fact the years following the end of the war continued to be difficult for many families, and the jubilation of a ceasefire had been quickly replaced by a sensation that war was damaging and not at all heroic. The sentiment of unease had grown as fighting continued in places across the globe and new regimes were wary that they could collapse at any point from revolution. Even in the UK, where revolution was unlikely, all was not well; in fact many people had been very unwell. A flu epidemic had emerged in the summer of 1918 and continued into the spring and early summer of 1920.
It was estimated that the flu had infected approximately a third of the global population, killing anywhere between 20 million to 50 million people. By autumn 1920 the devastating effects of war followed by a pandemic had been felt by everyone. The desire to commemorate loss and to come together to remember sacrifice was important to individuals and communities. Yet in 1920 many of the outward signs of Remembrance had not been established. The multitude of memorials that we are now so familiar with that we walk past them except at Remembrance time had not yet been erected; the poppy, our national symbol of Remembrance, had not been adopted; and veterans organisations were only just beginning to provide support. Despite this, on Armistice Day people still lined the streets in silence as the unknown soldier was transported by carriage from Waterloo station to Westminster Abbey; in towns and villages across the UK, Empire and Commonwealth men and women, workers in factories and offices and children in schools would stop for two minutes of silence. This sign of respect for those who served, those who lost loved ones and those who never returned was paid by all – even without the symbols of Remembrance established.
One hundred years later those symbols of Remembrance are well-established and recognised. Although the First World War and many subsequent conflicts are remote to most people, most of us are used to putting on our poppy, attending a Remembrance event and observing two minutes' silence. The problem this year is that this collective and public nature of Remembrance will not be possible; a pandemic has once again swept around the globe and this time the outward collective nature of Remembrance will be changed. There will not be parades, the poppy collectors will not be stood on street corners and railways stations, most of us will not attend Remembrance events in their usual forms – but perhaps more than ever the need to come together to remember the sacrifice that others have made is important.
Armistice Day and Remembrance Sunday are about reflecting on the service of the men and women and their families of the Armed Forces. A century ago they didn't need organised parades or war memorials to know that they needed to show respect to these people; coming together to observe two minutes' silence all at the same time was the key factor.
This year regardless of where you are, whether you are alone, in a group of six or in a work or school bubble, regardless of whether you can get hold of a poppy or not, you can still reflect on the sacrifice of others; and by doing it at 11.00 am on either Remembrance Sunday or Armistice Day you will be standing alongside millions of others all doing the same thing. You will be upholding Remembrance in the same ways that those who established it did and demonstrating the resilience that the men and women of 1920 were able to do as they began to emerge from a war and a pandemic.