Titanic: Death on the Water – winner, Primary
By Tom and Tony Bradman
Young Quills reviews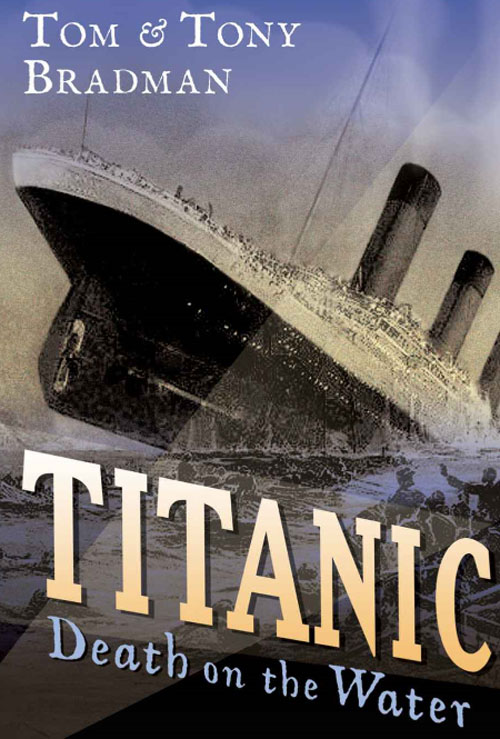 1. I really enjoyed this book as it was a very quick read. The book was fast paced but it was extremely enjoyable.
The book goes from the Titanic being built to when a wreath was put in the water after the Titanic had sunk.
The main character Billy was a young lad who was brave and strong. He puts others before himself and enjoyed being the man of the family.
Reviewed by Lucy
2. I didn't enjoy this book, even though I thought I would because I could predict what would happen. I knew too much about the Titanic and how it sunk to enjoy reading about what I knew.
Reviewed by Emma
3. Titanic is an amazing story of fourteen years old, Billy. When Billy's father dies falling off the great ship Titanic, while working on it at the dockyard with Billy, he knows he has to leave. Billy gets a job as a bellboy, on the Titanic. Everybody knows it's unsinkable.
But it isn't. And, as the Titanic sinks further into the sea, Billy wonders if he and his friends will make it.
I really enjoyed reading Titanic. Tom and Tony Bradman are amazing authors. It transports you aboard the sinking ship and it allows you to feel the fear, which those on the Titanic felt. I recommend this book for ages 8 to 13.
Reviewed by Caitlin
4. The Titanic, written by Tom Bradman, is a fantastic historical narrative about the tragedy of the Titanic. It is about a boy, Billy Fleming, who gets a job as a bellboy on the Titanic, shortly after his father dies working on the great ship. Billy knows he will be safe on the Titanic - everyone knows the Titanic is unsinkable. Along the way, he meets a Polish family with a mischievous daughter called Anya. But when Anya goes missing as the ship is sinking, Billy is forced to find out how brave he really is.
I would recommend this book to ages 7 to 12.
Reviewed by Ysobel
5. I chose this book because the title looked exciting. The picture was fascinating and the blurb sounded amazing.
My story was about a boy called Billy that had to escape from the Titanic. Billy's dad didn't escape and he died.
There were 2223 people on board when it hit the iceberg. 1517 died, so 706 survived.
I would only recommend this book to people who are 8 and over because lots of people die in it and younger children might find it scary.
This story is real.
Reviewed by Annabelle
6. Titanic is a historical, fiction, adventure story- first published in 2012. I thought it would be a factual account, but surprisingly it was a very enjoyable fiction story.
This book is told in third person, the main character is called Billy; I particularly like Billy. He lives with this mother and four sisters: Ada, Nelly, Daisy and little six year old Mabel. Billy's dad recently died because of a terrible accident in the dockyard. Ever since his dad died, Billy has been very protective over this family. Throughout the story you realise Billy hasn't got a bad bone in his body.
Billy was going to follow his dad's footsteps and work in the dockyard, but Billy had a secret - he really didn't want to. On that note he found a new job on the Titanic. He meets a little girl in economy class and she reminds him of someone very special. Throughout the story Billy goes through ups and downs, good and bad reactions.
I personally liked the main dramatic dilemma in the story; it made for all different emotions. However I really didn't like the last paragraph of the blurb, it almost gave the book away but it did have a little twist in its tail. I also enjoyed the length and the language; an easy read and in some places it is a real page turner!