Take Part in the Great Debate 2018
Was the 1918 extension of the franchise the most significant moment in British democratic history?
By Maheema Chanrai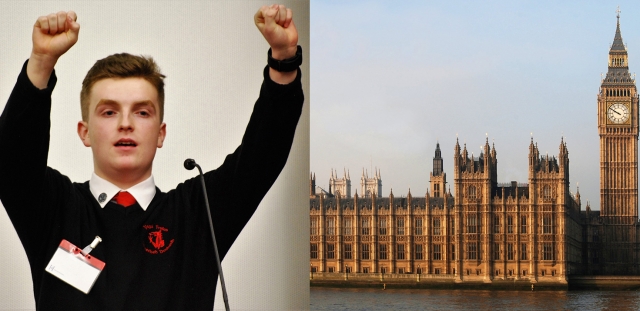 Win your local heat and speak in Parliament!
This year's heats have now ended. Congratulations to all our Finalists! For more information about the Great Debate, please contact maheema.chanrai@history.org.uk.
The Historical Association is inviting students to take part in the 2018 Great Debate. The Great Debate is a national public-speaking competition for sixth-form students with an interest in history. To take part, students have to present a five-minute speech answering this year's question: 'Was the 1918 extension of the franchise the most significant moment in British democratic history?'
This year's competition is being held in partnership with the UK Parliament's Vote 100 project, and we are delighted to announce that the Grand Final will take place at the Houses of Parliament on 10 March 2018.
The competition is divided into approximately 20 regional heats across the UK. In order to be in with a chance of speaking at the final in Parliament, students must compete to win their regional heat. The competition is an ideal opportunity for students to gain valuable experience in speaking to an audience and developing their debating skills, so register your school today!
Why enter the Great Debate?
The Great Debate is a fantastic opportunity for students to gain experience of public speaking in front of an audience, developing their confidence and self-esteem in addition to their skills of developing a historical argument.

The winner will receive a cash prize and their school will win prizes from our sponsors. All finalists will receive free student membership of the Historical Association.
What's involved for students?
Students should explain the significance of the 1918 extension of the franchise to their understanding of democracy, which may include how and why it has made an impact on their personal lives and/or their local, social, cultural, religious, ethnic (or other) community.

They may also choose to make the case for another historical 'moment', explaining the wider significance of their chosen event or experience and why they consider it to be more significant within the history of British democracy.

Students will have a maximum of five minutes to present their case and then field questions from the judges.
Is there any support?

Plenty! In the links below you can download:

• Guidance for teachers
• Public-speaking guidance for students
• Competition rules
Students can also view films which help explain the competition:
• Speeches from all the 2017 finalists
• Interview with 2015 winner Charlotte Mallon
• Film: What is the Great Debate?
• Film: Advice for students

How do I register?
10-12 schools can take part per heat. Schools may enter one student each, though more may be permitted for undersubscribed areas and sixth form colleges may field up to four candidates upon request. We suggest that schools hold their own internal heats to put forward their best student for the regional rounds.
Take a look at the heats available to see which is most convenient for your school. You can view them geographically using Google Maps or by date on our Event Calendar.
To register your school's interest in taking part please email our Education and Events Officer, Maheema Chanrai, at maheema.chanrai@history.org.uk indicating your preferred regional heat. There is no charge for entering the competition.
If you would be interested in acting as a judge for a local heat please also let us know!