Big Ideas: Remember Together in 2018
Remembrance projects and resources for schools and groups
Published 31st October 2018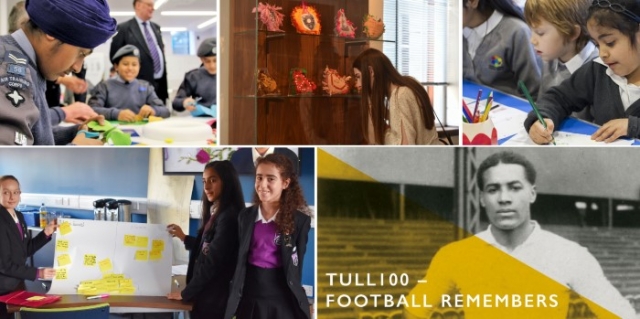 Take part in remembrance projects and access free resources
Schools and groups across the UK are invited to take part in engaging First World War commemoration projects this autumn. Groups across the UK can access free resources and up to £200 funding towards their projects. Groups in England can become community hubs and access up to £1,000 funding to engage 10 or more groups in these projects. Find out more at www.big-ideas.org.
These projects are led by Big Ideas and funded by MHCLG, with additional funding for select projects to work in the Home Nations from RAF100, through the Chancellor using LIBOR funds, and a National Lottery grant from the Big Lottery Fund.
Tull100 - Football Remembers
Join Tull100 to discover the life of Walter Tull, a British footballer of dual heritage who grew up in a children's home and who served in the First World War, becoming thefirst officer of black heritage in the British infantry to lead his men into battle. He died in action in 1918.
Tull100 holds 'No Barriers' as its key message and invites groups to earn medals by taking action to make their community more inclusive. Get involved in football matches, making murals, holding discussions about what it means to have 'No Barriers', and more. An informative resource pack, posters, bookmarks and Black History Month activity plans are available.
Email tull100@big-ideas.org or find out more at big-ideas.org/project/tull100
Trailblazers: World War One's Inspirational Women
This project has a free resource pack with case studies of inspirational women from the First World War period, their achievements and how they were changemakers of their time. Groups are challenged to learn about these women and identify contemporary inspirational women today, sharing their ideas with Big Ideas and creating unique Trailblazers posters, presentations or murals to celebrate Trailblazing women in their community.
Email trailblazers@big-ideas.org or discover more at: big-ideas.org/project/trailblazers
Remember RAF100
Create planes from toast and celery, illustrate poetry books, and discover local heritage with Remember RAF100. This project commemorates the many air service personnel who lost their lives during the First World War, inviting groups to discover and commemorate local RAF history through engaging and creative activities. Discover the Remember RAF100 database with details of over 4,800 air service personnel who died during the First World War and are buried or commemorated in the UK. Free resources including an activity pack and illustrate-your-own poetry book for primary schools, and an historical poster suitable for all ages sharing the stories of the people behind the planes.
Email RAF100@big-ideas.org or big-ideas.org/project/remember-raf100/
The Unremembered: World War One's Army of Workers
The Unremembered commemorates Labour Corps from across the world who served in the First World War. Many died, but their contributions are rarely acknowledged today. In 2018, The Unremembered focuses on the Commonwealth story with resources including British, East African, West African, Indian, South African and Caribbean heritage. Groups can access new resources with activity ideas to discover and commemorate each different Labour Corps. This project highlights the diversity of the FirstWorld War. Groups can create wreaths, visit Labour Corps graves, write poetry and letters, create murals, perform music, research local history and much more.
Email theunremembered@big-ideas.org or visit theunremembered.org
Motherhood, Loss and the First World War
This project acknowledges the universality of bereavement as the defining experience of the First World War, with a special focus on the impact on mothers – an overlooked aspect of grief from the period. The project brings communities together through these universal themes, and through activities such as reading letters between First World War mothers and sons, visiting graves and memorials, researching local stories, playing music and creative writing.
Email mothers@big-ideas.org or discover more at big-ideas.org/project/motherhood