Great Debate 2020 – Find your local heat
The HA's public-speaking competition for students aged 16-19
Published 11th September 2019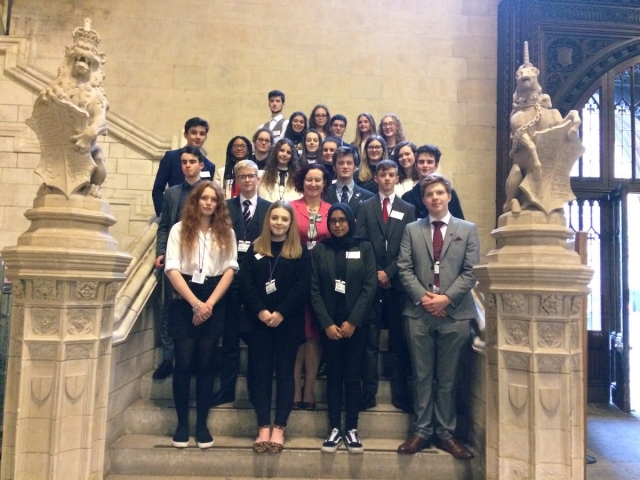 Heats will be taking place across the country over the autumn term. This list of available heats will be updated frequently.
Please email greatdebate@history.org.uk in order to:
Book onto a local heat
Offer to host a local heat
Subscribe for updates on heats as they are scheduled
Register interest for a heat to be held in your area, if there is not one already.
Confirmed Heats 2020:
Birmingham - 23rd January
Aldridge School, Walsall
Bolton – 6pm, 4th November
The Bolton School
Bradford – 6pm, 18th November
Woodhouse Grove School
Bristol – 6:30pm, 27th November
University of Bristol Humanities/School of Arts Complex, Woodward Road
Buckinghamshire – 6pm, 12th December
Pipers Corner School
Canterbury – 7pm, 5th November
The Kings School
Chichester – 7pm, 28th November
Friends' Meeting House
Colchester – 20th November
Colchester County High School for Girls
Cornwall – 5th December
Callywith College
Dorset – 28th November
Highcliffe School
Durham – 6pm, 25th November
Durham High School
Edinburgh – 9th December
Mary Erskine School
Glasgow - 17th December
Kelvinside Academy
Isle of Jersey – 25th November
Victoria College
Limerick – 7:30pm, 5th December
Villiers School
Lincoln
William Farr School
London - 10th December
PLEASE NOTE CHANGE OF VENUE: Liverpool University (London Campus), Moorgate
Merseyside - 21st November
Upton Hall School
Norfolk
Greshams School
North Wales – 14th November
Ysgol Eirias
Nuneaton – 5pm, 13th November
Etone College
Oxford – 2nd December
Magdalen College
Peterborough - 7:45pm, 28th November


Oundle School

Taunton – 6:30pm, 21st November
Queen's College
West Surrey – 6pm, 25th November
St John's School, Leatherhead
Worcester – 19th November
RGS Worcester
York – 6pm, 19th November
Bootham School
We will also be hosting a digital heat via Skype or similar free software in order to allow students from more remote areas, or anyone else who for whatever other reason cannot attend one of these local heats, to have a chance to compete. This will take place on January 29th. If you would like to register for this heat or have any queries about it, please email us at the usual address.
Heats TBC
These heats are not yet formally scheduled at this stage, but you can still register interest in them by emailing greatdebate@history.org.uk. You will then be informed as soon as their details have been confirmed.
Cardiff - Cardiff High School

London – Pimlico Academy, January
Completed Heats
Sheffield
Winner: Sasha Pandit, Birkdale School
Updated 29th October 2019
Links: