Published: 6th June 2023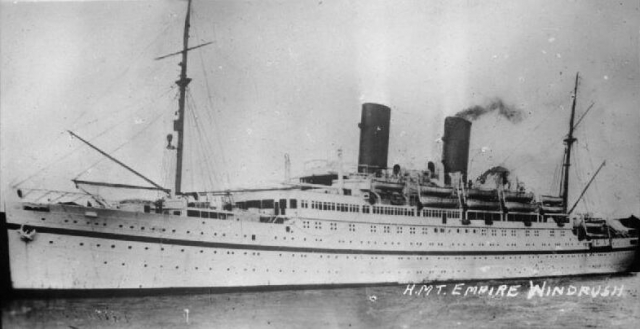 The ship the HMT Empire Windrush arrived into the UK on 22 June 1948. It carried 592 passengers from the Caribbean who were answering the UK Government's call to fill jobs in Britain's post-war economy. Between 1948–1971 many more Empire and Commonwealth citizens from the Caribbean islands would arrive in the UK to work in many predominantly unskilled and low-paid roles as well as in essential areas of the newly formed NHS and transport sectors. The thousands who arrived over the next 20 years, usually as young people, all became referred to as the Windrush generation.
Despite being able to work in the UK by their own citizenship status and because the British Government wanted them, many of the new Caribbean arrivals faced strong racism and often violent attacks. A lack of anti- laws against racial discrimination meant that the new Caribbean immigrants were treated badly, prevented from accessing housing and certain sectors of the job market, and discouraged from taking part in certain areas of education. Large numbers of those that arrived already had ties to the UK, whether through service during the Second World War or through education and family ties.
As the British Empire disappeared and was replaced by a Commonwealth the UK introduced new legislation. In 1971 the UK Immigration Act allowed Commonwealth citizens resident in the UK 'indefinite leave to remain' – which meant a permanent right to live and work in the UK. However, many of those who had arrived in the 1940s and 50s had not been recorded properly by government officials and when the 1971 law came into effect they were not properly granted legal status.
In 2010 further records of that period were destroyed, leaving many of those who had arrived over 60 years previously without any legal status in the UK. The ongoing hurtful treatment of this group of people by the authorities laid open the unhealed wounds that continue to exist.
The exact number of those who arrived from the Caribbean is therefore unsurprisingly unknown, but their hard work and contribution has helped to shape modern Britain. On the 75th anniversary of the first arrivals we have brought together some of the articles and podcasts that explore the history of this period and recommended to you some of the specialist articles and podcasts telling the stories of that generation of people.
General resources:
Primary resources:
Secondary resources: