---
Articles, Journals & Publications
Curriculum
Trainee, NQT & Teach First
CPD, Guides & Support
HA Podcast Series
HA Competitions
Links, Reviews & Visits
World War 1

The UK's leading professional journal for secondary history teachers, up to and including sixth form colleges.
Support the HA
Make a donation
Publication date: 27th March 2005 by HA
Teaching History 118: Re-thinking Differentiation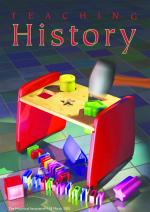 Teaching History 118
This edition looks at differentation being about enabling all students to have an equal opportunity not about dumbing down. How interactions between teachers inform professional practice, How visual learning in A Level history can improve memory and conceptual understanding, Teaching about heritage through a cross-curricular enquiry and much more...
---