---
Articles, Journals & Publications
Curriculum
Trainee, NQT & Teach First
CPD, Guides & Support
HA Podcast Series
HA Competitions
Links, Reviews & Visits
World War 1

The UK's leading professional journal for secondary history teachers, up to and including sixth form colleges.
Support the HA
Make a donation
Publication date: 27th December 2002 by HA
Teaching History 109: Examining History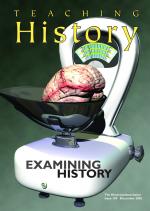 Teaching History 109
This edition asks the question: how do we create worthwhile examination courses that stimulate all pupils and strengthens the gold standard of rigour at the same time? Why we must change history at GCSE, Getting Year 10 to understand the value of precise factual knowledge, Ensuring progression continues into GCSE, Problems with the post-16 history curriculum, Students' experience of history at A Level and much more...
---