Contribute to History
Contribute
Last updated: 18th September 2018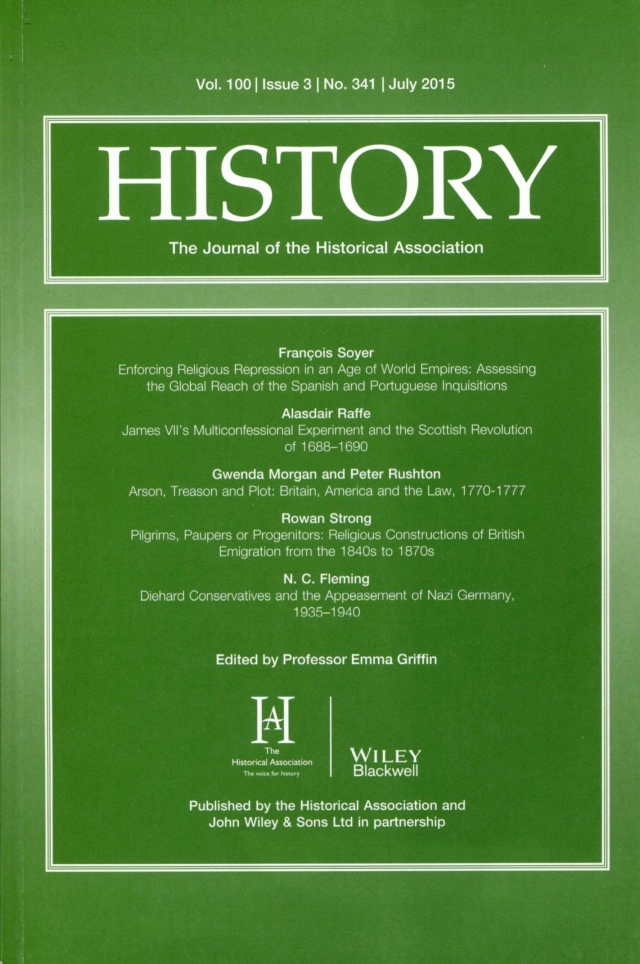 History: The Journal of the Historical Association
Published on behalf of the Historical Association
Edited by:
Emma Griffin
Print ISSN: 0018-2648
Online ISSN: 1468-229X
Frequency: Quarterly
Current Volume: 95 / 2010
Author Guidelines
History has now adopted ScholarOne Manuscripts, for online manuscript submission and peer review. The new system brings with it a whole host of benefits including:
Quick and easy submission
Administration centralised and reduced
Significant decrease in peer review times
From now on all submissions to the journal must be submitted online at http://mc.manuscriptcentral.com/hist.
Full instructions and support are available on the site and a user ID and password can be obtained on the first visit. If you require assistance then click the Get Help Now link which appears at the top right of every ScholarOne Manuscripts page. If you cannot submit online, please contact Dr Helena Carr in the Editorial Office by telephone (+44 (0)1603 597590) or by e-mail (historyeditors@uea.ac.uk).
Unless authors specifically request their return, these will not be returned even if not accepted. The Editor will notify authors as soon as possible of the acceptability of their submissions but will not enter into correspondence about those considered unsuitable for publication. A copy of an article accepted for publication may be returned to the author for corrections to bring it into conformity with these notes if it does not so conform when submitted. Authors will be required to sign an Exclusive Licence Form (ELF) for all papers accepted for publication. Signature of the ELF is a condition of publication and papers will not be passed to the publisher for production unless a signed form has been received. Please note that signature of the Exclusive Licence Form does not affect ownership of copyright in the material. (Government employees need to complete the Author Warranty sections, although copyright in such cases does not need to be assigned). After submission authors will retain the right to publish their paper in various media/circumstances (please see the form for further details). To assist authors an appropriate form will be supplied by the editorial office. Alternatively, authors may like to download a copy of the form here. You can also download the Regular Author Exclusive License Form for book reviewers Here.
Authors will be provided with one free copy of the journal as well as a PDF of your article through Wiley-Blackwell Author Services once it has been published. Please therefore sign up for Author Services at any point in the production of your article if you would like to access your article PDF and enjoy the many other benefits the service offers.
Manuscripts should be made anonymous by authors not putting their names directly on the pages of their articles. Articles should be typed using double spacing on one side of A4 paper with wide margins. They should not exceed 8,000 words. Footnotes and quotations should also be double-spaced and numbered consecutively throughout the article. They should not appear at the foot of each page but should be typed separately from the text at the end of the article. As far as possible they should be restricted to references, and should not exceed one hundred at the most. All paragraphs, except the first in each section, should be indented.
Within the text, single quotations marks should be used. Double quotation marks should only be used for quotations within quotations. Quotations of over fifty words should be indented, without quotation marks. Dates should be expressed thus: 1 January 1989; the 1980s; the twentieth century; 1914-18; 1988-9. Numbers up to ninety-nine should be spelled out in full. Capitalization should be kept to a minimum, preferably only for personal and place names and for titles when attached to a personal name (thus the king but King William).
References should be full enough when first cited to be readily identifiable. Any further references should be indicated by a clear abbreviation, thereby avoiding art. cit. , loc. cit. and op. cit. , etc. Where a reference to a single work is followed in the next footnote by a reference to the same work, ibid. may be used, but it should not be used after citations of more than one work. References to books should indicate authors by published name, either given name or initial(s), and surname, title in italics (underlined in typescripts), place of publication (other than London) and date in round brackets, abbreviation in square brackets, and page number, e.g. :
Austin Woolrych, Soldiers and Statesmen: The General Council of the Army and its Debates, 1647-1648 (Oxford, 1987) [hereafter Woolrych, Soldiers and Statesmen ], p.282.
References to edited volumes should indicate the title in italics, the editor(s), number of volumes, place of publication (unless London) and date in round brackets, abbreviation in square brackets, volume and page, e.g. :
The Marlborough-Godolphin Correspondence , ed. Henry L. Snyder (3 vols. , Oxford 1975) [hereafter Marl. -God. Corr. ], ii.23.
References to articles and essays should indicate author, title of article in quotation marks, journal or title of edited essays in italics, editors of essays, place of publication (unless London) and date in round brackets, abbreviation in square brackets , volume (where appropriate) and page, e.g. :
Ralph Davis, English Foreign Trade, 1660-1700, Essays in Economic History , ed. E. M. Carus-Wilson (3 vols. , 1957-62) [hereafter Davis, Foreign Trade], ii. 257-72.
Conrad Russell, Parliamentary History in Perspective, 1604-29, History , lxi (1976) [hereafter Russell, Parl. Hist. ], 10.
If historical journals are cited more than once, e.g. by referring to different articles from the same periodical, their titles should be given in full in the first reference, and thereafter the following abbreviations:
American Historical Journal (Amer. Hist. Rev.)
Bulletin of the Institute of Historical Research (BIHR)
Economic History Review (Ec. HR)
English Historical Review (EHR)
Historical Journal (HJ)
History (ante)
Midland History (Midland Hist.)
Northern History (Northern Hist.)
Past and Present (P & P)
Social History (Soc. Hist.)
Scottish Historical Review (SHR)
Transactions of the Royal Historical Society (TRHS)
For other titles, follow the above practice, i.e. use initial capitals unless these duplicate other journals or are not immediately clear, in which case provide more letters to avoid ambiguity or obscurity. Dates should be abbreviated in footnotes thus: 1 Jan. 1989. First references to manuscripts should always give the location and collection in full, indicating an abbreviation for further references, e.g.
British Library Additional Manuscript [hereafter BL Add. Ms], 3182, fo.6.
Online production tracking is now available for your article through Wiley-Blackwell's Author Services.
Author Services enables authors to track their articles - once accepted - through the production process to publication online and in print. Authors can check the status of their articles online and choose to receive automated e-mails at key stages of production. The author will receive an e-mail with a unique link that enables them to register and have their article automatically added to the system. Please ensure that a complete e-mail address is provided when submitting the manuscript. Visit Author Services for more details on online production tracking and for a wealth of resources including FAQs and tips on article preparation, submission and more.