Teacher Fellowship Programme: Conflict, Art and Remembrance
Teacher Fellowship Programme 2019
Published: 5th March 2019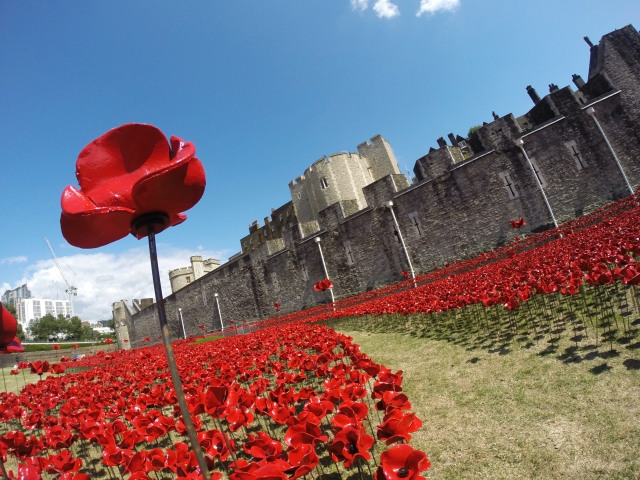 Blood Swept Lands and Seas of Red
Blood Swept Lands and Seas of Red was a commemorative art installation of 888,246 ceramic poppies at the Tower of London in 2014, by artists Paul Cummins and Tom Piper. Each handmade ceramic poppy was 'planted' by a volunteer and the installation attracted over 5 million visitors to the site and c.18 million online page views. It has been described as "the most popular art installation as well as arguably the most effective expression of commemoration in British history".
Taking Blood Swept Lands and Seas of Red as its starting point, 2019's first Teacher Fellowship Programme explores the complex relationship between conflict, art and remembrance. The programme will use brand new research data to explore how and why commemoration, including that of WWI and other conflicts, is still so important to the British public and feeds into their understanding of the history. The programme has been generously funded by the AHRC.
Lest we forget
Participants are working with Dr Eleanor O'Keeffe and Dr Megan Gooch from Historic Royal Palaces (the heritage organisation which hosted the Poppies installation) and Dr Michael Riley, history educator and Fellow of the HA, to address two fundamental questions:
What sensitivities are involved in helping students to develop an understanding of the horrors, complexities and ambiguities of human conflict?
How can we engage students in debates about the ways in which the arts have been used to commemorate past conflicts?
Fellows are exploring a range of sources and interpretation that can be used to develop meaningful and engaging approaches to teaching about conflict, art and remembrance. You can read reflections from the online course in the next page of this module.
Podcasts
As part of the programme we have recorded a number of podcasts about remembering the First World War. These are free to access and can be reached via the links below.