England's Saintly Landscape
Book review
By Trevor James; reviewed by Michael Arnold, published 9th July 2020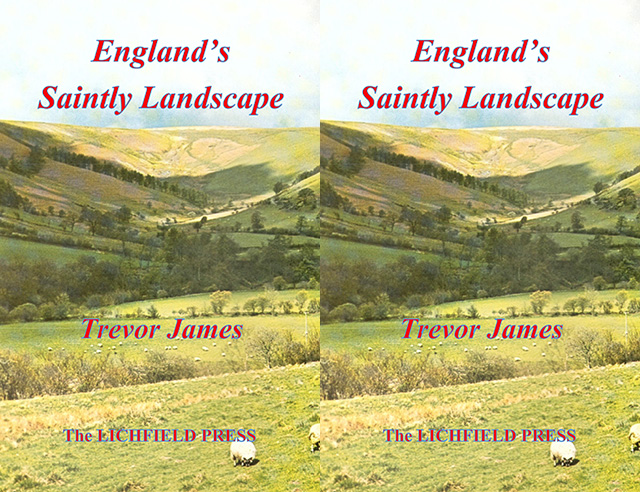 England's Saintly Landscape, Trevor James, Lichfield Press, 2020, 95 pp, £10-00. ISBN 978-0-905985-94-7
The author is quick to credit W G Hoskins and Eilert Ekwall and their influence is readily apparent in the enthusiasm that permeates this study. Trevor James' contention is that church dedications, place names, pilgrimage routes, local industries, fairs and other local customs contribute to our understanding of the historic religious landscape and the beliefs of the people who inhabited it. Further, the origins of some church dedications and place names would be lost without an assessment of some of the ancillary factors. In all, the author assesses scores of saintly connections from the relatively well-known fact that St Michael churches are often on elevated land to the much rarer St Plegmund, St Eata and St Modwen.
The chapter on pilgrimage routes is particularly compelling with a detailed study of the dedication of St Wilfrid churches. The importance of rivers, crossing points and Roman roads is considered together with a recognition that the proximity of inns to churches turned the worldly needs of the pilgrims into profitable business. Inn names were used as what we would now call marketing devices to attract pilgrims.
James does not restrict himself to the explanation of church dedications with evidence also being provided to support the place name of towns, villages and deserted settlements being derived from a saint, perhaps because of his birthplace, even though there may be no local church dedicated to that saint.
James' wide geographical knowledge of saintly dedications and connections is impressive. There is scarcely a part of England that is not cited and particular attention is paid to Cornwall and the Midlands. Similarly, the wide range of sources provides a helpful guide for further research. James weaves topographical observations, Court Rolls, Charter Rolls, commercial directories and secondary sources into his narrative and provides an annotated bibliography which will assist those seeking to undertake further research.
The photographs and illustrations are informative but there could usefully have been an index.
This book is strongly recommended as a handbook for both the student of saintly influence on the landscape and the casual reader.
Orders of the book can be made via www.ebay.co.uk/itm/313209361784