Fair Seed-Time: Robert Evans, Francis Newdigate and the Making of George Eliot
Book review
By David Paterson; reviewed by Trevor James, published 31st January 2020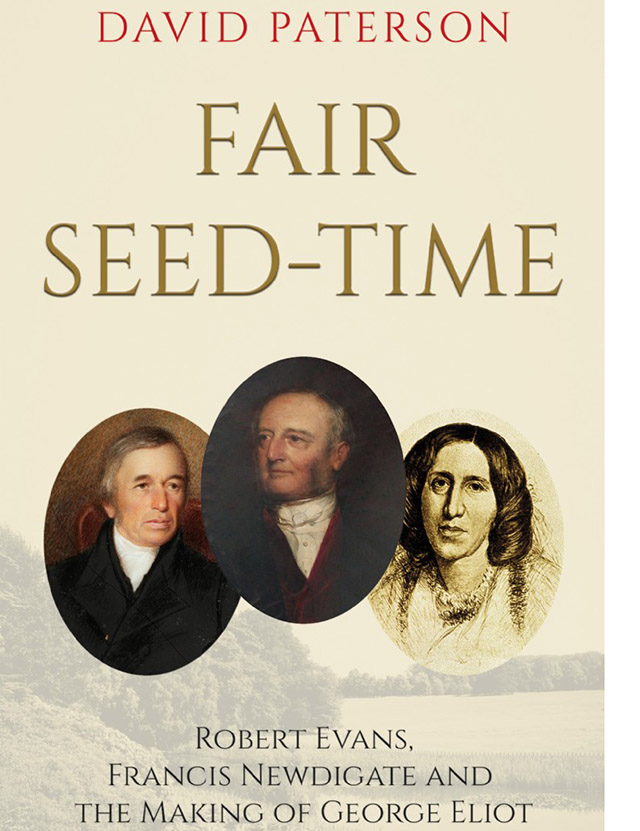 Fair Seed-Time: Robert Evans, Francis Newdigate and the Making of George Eliot, David Paterson, Troubadour, 2019, 306p, £12-00. ISBN 978-1-83859-146-5
'Fair seed-time' is a phrase used by William Wordsworth and echoed in a comment by George Eliot when she wrote 'these hours were seed to all my after good'.
Co-incidental with the bi-centenary of George Eliot's birth in 1819, David Paterson has explored the work and life of her father, Robert Evans, and his interactions with one of his principal employers, Francis Newdigate Junior.
Robert Evans was an experienced, accomplished and highly regarded land agent, working principally on the Arbury estates near to Nuneaton in Warwickshire but also in Derbyshire and Staffordshire. Mary Ann Evans was his youngest child and he was responsible for the breadth and depths of her education, which subsequently enabled the future 'George Eliot' to become a writer of international significance. Interestingly David Paterson stresses the limitations of Robert Evans' own education which stands in stark contrast to his daughter's monumental literary achievements. It is also worth noting that Evans was in those early days of electoral reform in the 1830s what would be described as a working-class Tory and, therefore, not one to have supported progressive ideas, which makes the education he provided for his own daughter all that much more remarkable.
David Paterson's meticulous exploration reveals that George Eliot's observations of her father's work, and the context in which it was set, deeply affected the nature of her descriptive and social commentary. As he says, Robert Evans was not Adam Bede but, without Robert Evans, Adam Bede would not have been created.
This is an important academic work and should be essential reading to any scholar of George Eliot's work or indeed anyone interested in mid-19th century society, both in Warwickshire and beyond. One recent literary comment which appeared as part of the George Eliot bi-centenary suggested that, in her literary output, she was rather dismissive of her upbringing in Warwickshire: David Paterson has instead proved that this daughter's appreciation of her father's life and work was deeply ingrained in her consciousness and, therefore, was highly reflected in her writing.