Norfolk and Suffolk Churches: The Domesday Record
Book review
By David Butcher; reviewed by Trevor James, published 11th June 2019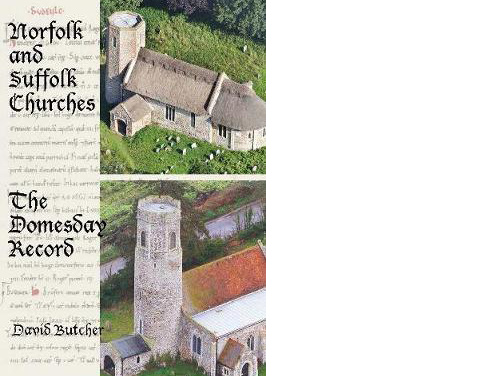 Norfolk and Suffolk Churches: The Domesday Record, David Butcher, Poppyland Publishing, 2019, 369p, £14-95. ISBN 9781909796614.
This is a very specialist book with a seemingly rather local potential audience. However, those who, in the distant past, were much influenced by H. C. Darby's examination of various aspects of Domesday Geography and latterly have been enthusiastic users of the Phillimore Domesday series, led by John Morris, will find David Butcher's volume a very helpful signpost to further exploration.
In the course of this book, Butcher demonstrates how, at a local level, it is possible to interpret the Domesday evidence in new and more thorough ways. We are guided into possible ways of gaining further understanding of what the Domesday commissioners have left for us as their legacy.
It is not possible to summarise the contents in a meaningful way but two specifics will illustrate my point about possible re-examination of the evidence. For both Norfolk and Suffolk, he analyses, albeit in two brief sections, the extent and nature of the landholdings of women in the two counties. Secondly, for these two counties with their exceptional provision of ancient churches, their distribution is closely analysed. From my own perspective the data reveals to me that neither of my chosen fieldwork settlements – Salthouse and Well-next-the-Sea – despite the longevity with which their church structures can be proven to have existed, or indeed to have been preceded by earlier structures, yields a reference to a church or priest in the Domesday.
This latter is a sanguine point for reflection: we can only initially work with the specific evidence available. However, as Butcher indicates, our shared objective is to assess exactly how many churches really existed in the Norman era, or earlier. If we match his meticulous methodology, expressed in tabulated form, with archaeological and architectural clues we may be able to approach a more accurate estimate of the precise position.